Cinco De Mayo
Party Ideas
Posted on Apr 30, 2012 6:52 AM by Naomi de la Torre
Get ready to throw a sizzling Cinco de Mayo fiesta with these mouthwatering Mexican recipes and party ideas. Learn more about Mexican heritage and share the love with a party that celebrates Mexican culture and cuisine.
---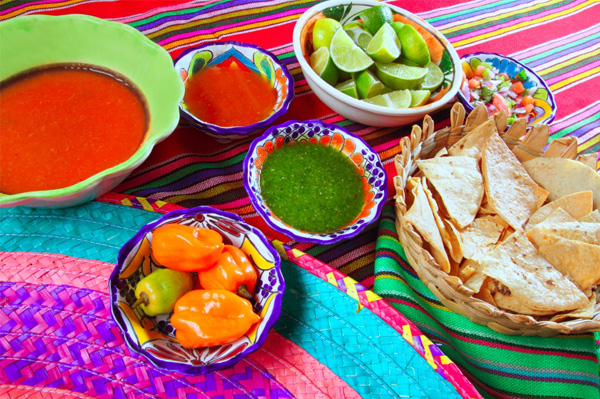 Ready to get your party on? No Cinco de Mayo party is complete without good food, family and fun. So bust out your favorite mariachi tunes and let's get busy in the kitchen.
Appetizers
For a festive touch, throw a colorful Mexican blanket over your table and spread out a tasty selection of appetizers like ultimate nachos, quesadillas and bacon-wrapped jalapeno poppers. Looking for a fun way to incorporate the Mexican flag? Fill a big rectangular dish with guacamole, sour cream and spicy homemade salsa in the shape of the Mexican flag for easy dipping delight. An oversize sombrero filled with avocados can make a simple but elegant centerpiece for your table.
Drinks
Mexican food is deliciously spicy, so make sure you have plenty of tasty drinks around. Traditional aguas frescas are always a huge hit. Or you can really make your tongue burn with some tantalizing Cinco de Mayo inspired cocktails.
Main dishes
For the main course, offer a variety of zesty favorites like sour cream chicken enchiladas, flautas, chicken tortilla soup and tamales. You can also set up a taco bar so your guests can build their own tasty bites with as many toppings as they choose. Don't forget to offer plenty of classic Mexican sides like refried beans and Spanish rice.
Desserts
Go south of the border with an amazing selection of Mexican desserts guaranteed to make your guests wiggle their hips with joy. You can't go wrong with Abuelita's flan, tres leches cake or ceviche de mango. Decorate your dessert table with the cutest Cinco de Mayo piñata cookies you will ever see. You might also fill a full-size piñata with traditional Mexican candies like Pulparindo, de la Rosa Mazapan and Duvalin.
Party décor
Mexican culture celebrates color, so bring on the brilliance at your party with festive touches. Colorful tablecloths, strings of brightly colored lights, bowls of mini-maracas and vases of multicolored flowers will make any space pop. If you can, clear a space for a dance floor, pump up the jams and encourage your guests to cha-cha and salsa their way through the night. You could even hire a salsa dance instructor to liven up the evening.
Make it special
Plan some fun activities to add a little spice to your fiesta. Ask your guests to bring their favorite guacamole or salsa recipe and have a taste-off. Another fun idea is to fill a bowl with a variety of spicy chiles and see who can name the most peppers. If your guests are brave, have a pepper tasting contest with a prize for the person who tastes the spiciest one. And don't forget the party favors! You can keep the kids busy all night long with a craft table where they can make their own paper flowers and Mexican balloon balls. Que divertido!
More Mexican tradtions
Celebrate the Day of the Dead
How to make sugar skull cookies
Mexican Easter craft: How to make cascarones