Third Time's A Charm With Madagascar 3
Posted on Jun 12, 2012 7:30 AM by Naomi de la Torre
Jump on a rollercoaster ride of dazzling fun and belly laughs with the third installment of Madagascar. Rarely does a sequel (much less a threequel!) measure up to the original, but in this case, it goes above and beyond. Third time's a charm with this hilarious bunch of misfits from the New York Zoo.
---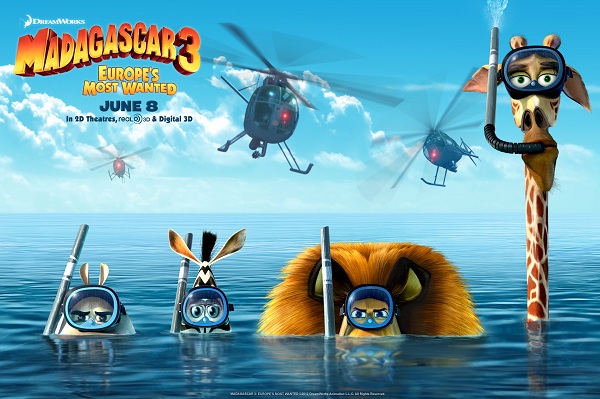 Show-stopping fun
If you were dreading taking your kids to the third animated Madagascar film – you are in for a surprise! Not only is this the most hilarious and show-stopping movie of the bunch, it has enough adult humor in it to make you laugh like a kid again. Witty, sharp and scandalously silly, this kids' movie is a rare treat for everyone in the whole family.
A new adventure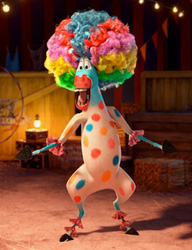 Once again, Alex the Lion (Ben Stiller), Marty the Zebra (Chris Rock), Gloria the Hippo (Jada Pinkett Smith) and Melman the Giraffe (David Schwimmer) are stranded and desperate to return to their home in New York Central Zoo. But this time around, they end up in Europe where they go undercover as circus performers in order to sneak a ride back to the United States.
With a cruel animal control officer on their tail, a surprisingly romance between King Julien and an enormous tricycle-riding bear, and a pile of pesky penguin antics – Madagascar 3 is packed with adventure, action and three-ring excitement from beginning to end.
Can't get enough Afro Circus!
The snappy, fizzy, candy-colored circus scenes are breathtakingly beautiful, not to mention a whole lot of hip-shaking, high-flying fun. The highlight of the entire film is a toss-up between the love scenes between King Julien and his tricycle-riding bear and Marty's hilarious attempt to create his own act for the show which he calls, "Afro Circus."
Even if you are a reluctant singer, we'd be surprised if you don't walk out of the theatre singing your heart out to Afro Circus. Booyah!
Take a peek at the trailer for Madagascar 3
More movie reviews