Best Summer Snacks For Kids
Posted on Jun 20, 2012 7:00 AM by Naomi de la Torre
You want your kids to eat carrot sticks. They want to storm the candy machine. Finding healthy snacks your kids will gobble up isn't always easy, so we've done the work for you. Take a peek at our kid-tasted and mom-approved summer snack list. It's guaranteed to make everyone in your family smile.
---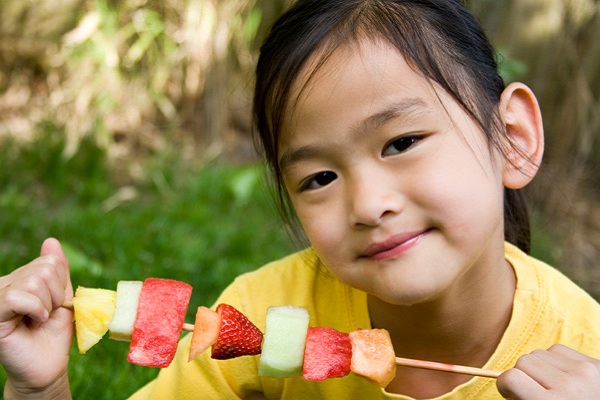 Roasted edamame
Edamame is packed with healthy fiber and protein. Most kids love it raw, but for a special treat, douse with olive oil and your favorite spices (we love chili pepper, cumin, salt and pepper) and roast in the oven for 10-15 minutes until golden brown. Mmmmm…
Fruit leather
Do your kids love fruit snacks? If so, they are going to fall head over heels for fruit leather. This healthy snack is nothing but pureed and dehydrated fruit, so it's chock full of vitamins and minerals that will keep your kids' engines going all day long. You can find a wide variety of delicious fruit leather snacks at your local natural grocer or try this simple tutorial to make your own!
Homemade popsicles
There's nothing like an ice cold fruit pop on a hot summer day. Instead of just buying store-bought popsicles, try making your own. All you have to do is pour your favorite juice into a homemade popsicle mold and voila! Instant frozen magic.
Veggie chips
Kids love chips, but instead of letting them fill up on empty calories try choosing veggie chips instead. Terra sells a wide variety of exotic vegetable chips like sweet potato, beet, taro, yucca and parsnip that provide an excellent source of nutrients while your kids chow down.
Homemade granola
Whole grain oats are packed with wholesome nutrition, so why not use them to whip up a tasty snack your kids will love? Making your own granola is easy and you can choose which ingredients to add to each unique batch. Try these delicious homemade granola recipes with your kiddos for a fun twist on a summer day!
Cups of dirt
Think a cup of dirt doesn't sound like a very good snack? Think again! This fun snack is a blast to make with the kids and is guaranteed to get your little ones noshing on a rainbow of tasty veggies. Fill the bottom of clear plastic cups with black bean dip. Now have your kiddos decorate with colorful veggie spears to create their very own garden. These tasty snacks are as much fun to make as they are to eat!
Fruit skewers
Everything tastes better on a stick! Cut up wedges of colorful fruit and have your kids string their own fruit skewers. Headed to the beach? Keep them extra cool by freezing ahead of time and you'll have your very own beach-ready frozen fruit pops.
Quesapizzas
Love quesadillas? Love pizza? You'll love them even more when they are united as one. Quesapizzas are the ultimate kid snack because they are a cinch to make and kids adore them. Simply use a whole wheat flour tortilla as the crust and pile on whatever healthy ingredients you choose. Top with tomato sauce and cheese and heat for 45 seconds in the microwave. Bam! It's snack time.
More healthy snacks
Top 10 portable snacks for on-the-go snacking
100-calorie snacks
7 Easy and healthy after-school snack ideas