Best Homemade Salad Dressing Recipes
Posted on Jun 25, 2012 8:25 AM by Naomi de la Torre
Making your own salad dressing is easy, not to mention delish! Learn simple tips and tricks for making your own unique salad dressings at home.
---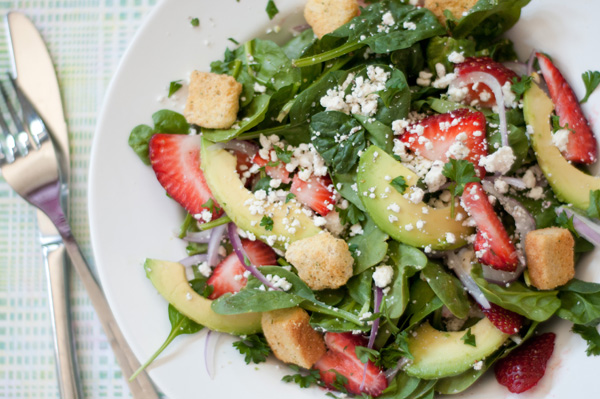 Store-bought salad dressings often contain added ingredients and unhealthy preservatives. When you make your own, you can use only the best nature has to offer, not to mention you can mix things up and get creative!
Oil to vinegar ratio
A good rule of thumb when making your own salad dressing is to use at least a 2:1 ratio of oil to vinegar or lemon juice. Less than that and your dressing may taste too bitter or strong. Some recipes can go up to a 3:1 ratio, which tastes great too. The wonderful thing about making your own salad dressing is that you can experiment and discover what flavors work best for you.
Use fresh ingredients
Always take care to use the freshest ingredients available. For example, fresh ground spices will give your dressing a bigger kick than ones that have been sitting around in your kitchen cabinets for the past six years. Make sure to test your oil to check that it hasn't gone rancid. Rancid oil will ruin even the most delicious salad dressing recipe.
Experiment with sweeteners
Consider experimenting with different sweeteners. Maple syrup, agave nectar and honey all add distinct and interesting flavors. Take the time to try different combinations and see what appeals to you.
Make small batches
Homemade salad dressings won't stay fresh for as long as store-bought varieties, so be sure to only mix up what you need for a day or two at a time.
Homemade salad dressing recipes
Now that you've got the basics, here are a few tasty recipes to get you started. For all recipes, funnel ingredients in a bottle with a tight-fitting lid. Close and shake for 1 minute until well-combined. (For any recipes with fresh fruit or veggies, place all ingredients in blender to mix well before serving.)
Asian sesame dressing
2 tablespoons white wine vinegar
4 tablespoons sesame oil
1 tablespoon hot pepper oil
2 tablespoons tamari
1 tablespoon maple syrup
Greek salad dressing
3 tablespoons fresh-squeezed lemon juice
1/2 cup olive oil
1 teaspoon fresh minced garlic
1 teaspoon fresh minced basil
1 teaspoon fresh minced oregano
1/2 teaspoon salt
1/2 teaspoon fresh ground black pepper
Blueberry dressing
3 tablespoons balsamic vinegar
6 tablespoons olive oil
2 tablespoons maple syrup
1 handful fresh blueberries
1/4 teaspoon salt
Spicy Mexican dressing
1/4 cup homemade salsa
3 tablespoons fresh-squeezed lemon juice
1/2 cup canola oil
1 teaspoon salt
1/2 teaspoon fresh ground white pepper
Apple cider dressing
1/2 cup apple cider vinegar
1 cup olive oil
1/4 cup maple syrup
2 tablespoons fresh minced garlic
1 teaspoon salt
1 teaspoon fresh ground black pepper
More on salads
Watermelon and feta salad recipe
Simple summer salad recipes
3 Protein-rich salad recipes for lunch