Drool-Worthy
Pink Lemonade
Posted on Jul 11, 2012 7:30 AM by Naomi de la Torre
An ice cold glass of old-fashioned pink lemonade is the perfect way to cool down on a hot summer day. Try this classic recipe at your next summer shindig!
---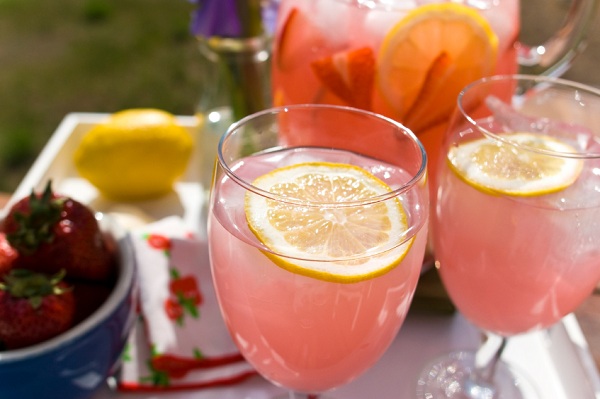 Light and refreshing, old-fashioned pink lemonade is easier to make than you'd expect and a great way to add fruit to your summer diet. While some recipes use cranberry juice to color the lemonade, we decided to get a little fancy with ours and infuse the drink with fresh strawberries. Interested in making the drink even healthier? You can switch out the sugar for agave nectar, birch sugar or stevia. Just make sure to add the sugar substitutes a bit at a time to get the perfect sweetness you desire.
Ingredients
8 large lemons
6 cups water
1-1/2 cups cane sugar
2 cups strawberries or raspberries
2 cups crushed ice
Directions
On your stovetop, heat 1 cup water with 1-1/2 cups cane sugar to make a simple syrup. When the sugar is completely dissolved, remove from heat and allow to cool.
Using a citrus juicer, squeeze the juice from all 8 lemons. Set aside.
Wash your strawberries and cut off green leaves and stems. Press strawberries through a sieve, removing the seeds while collecting the juice in a container below.
Combine simple syrup, strawberry juice, lemon juice and remaining water. Mix well and add crushed ice. Serve in chilled glasses with sliced strawberries and lemons to garnish. Enjoy!
More summer fun
Fun outdoor workouts for summer
Cheap ways to enjoy the summer
Easy ways to save on summer travel