Swoon-Worthy
Quinoa Salad
Posted on Jul 13, 2012 7:30 AM by Naomi de la Torre
Looking for a tasty summer salad to spice up your lunch hour? Look no further. This healthy and delicious quinoa and pomegranate salad is absolutely swoon-worthy.
---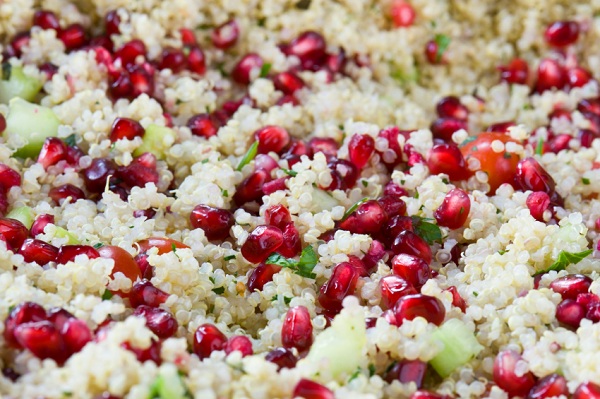 Health benefits of quinoa
Often thought to be a grain, quinoa is actually a seed. With a low glycemic index, high protein and low carb count, this ancient superfood is making a huge comeback. It's all the rage in the gluten-free community, because it can be used in place of other grains in the gluten-free diet.
How to cook with quinoa
When cooking with quinoa, make sure to spend plenty of time rinsing the seeds to remove the saponin residue. Quinoa is very versatile and can be used in a wide variety of tasty meals. Try serving quinoa with fresh berries for a yummy morning treat. Pop it like popcorn for a snack. Or use quinoa flour in your favorite baking recipes.
Quinoa and pomegranate salad recipe
Ready to get your quinoa on? This quinoa and pomegranate salad is guaranteed to rock your world. If you want an added protein boost, toss in a handful of sliced almonds or a cup of grilled chicken. Nom nom!
Ingredients
1 cup quinoa, rinsed and drained
4 cups water
1 cup cherry tomatoes
1/2 cup parsley
1/2 cup scallions
1 pomegranate
2 tablespoons extra virgin olive oil
1 teaspoon red wine vinegar
1 teaspoon maple syrup
1/2 teaspoon freshly ground black pepper
1 teaspoon kosher salt
2 cups spinach leaves
Directions
Bring 4 cups salted water to a rolling boil. Add quinoa and cook for 14 minutes or until tender.
Drain quinoa and rinse under cold water. Drain again and set aside.
Cut open your pomegranate and remove the seeds. Throw away the pomegranate peel.
Wash and chop parsley and scallions.
Wisk together olive oil, vinegar, maple syrup, pepper and salt.
Toss cooled quinoa with dressing, cherry tomatoes, parsley, scallions and pomegranate seeds. Mix well and place in the fridge for 30 minutes to cool. Serve chilled on a bed of fresh spinach leaves.
More summer recipes
Old-fashioned pink lemonade recipe
How to make homemade fruit popsicles
Simple summer salad recipes