Posted on Jul 24, 2012 1:00 PM by Naomi de la Torre
When you have small children in the house, you probably count yourself lucky if you don't have to pull crayons and Tonka trucks out of the fish tank each day. Keeping a spotless house? Who are we kidding? Pssst! Want to learn a few dirty little secrets from the pros that can keep your house looking squeaky clean in just a few minutes each day? Read on.
---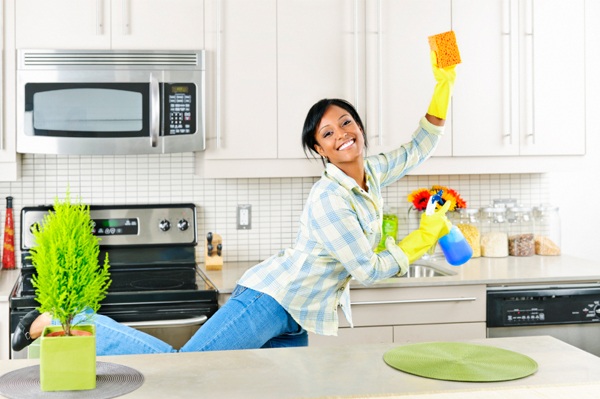 Weekly deep clean
Being a mom of small children is a challenging job. Setting realistic expectations is essential to your health and well-being. If you feel like you are always on damage control and never get beyond the dust bunnies, it's time for a weekly deep clean. This means that you won't be trying to mop the floors, dust the blinds and scour the bathrooms in between changing poopy diapers and trying to prevent Junior from using your makeup kit to give the dog a makeover. Whether you hire a maid service or ask your spouse for a few hours alone each week to get the job done, make sure that you start each week with a clean slate and a clean house.
Create an organized system
It's hard to keep a clean house when you don't have a place to put things away. Do you have too many toys for your toy bins? Is your inbox overflowing? Do you have a pile of children's artwork in the kitchen that you don't know what to do with? Spend some time decluttering and creating well-planned organizational systems. This way it will be much easier to…
Discover five minutes rescues
Sometimes five minutes is all it really takes to get a room cleaned up. It's easy to get overwhelmed when things get messy, so don't let them! Each morning and each night, get the whole family involved in five minute rescues. When you divide and conquer, a clean house is just moments away.
Run your vacuum
A clean carpet can make the whole house feel different. Running your vacuum every day is a great excuse to keep the floors tidy. It's also a great job for kids. Children love to run the vacuum and they can do a pretty good job too! Take time to teach them how to use the vacuum safely and effectively and before you know it, you won't ever have to think about clean carpets again.
Wash one load of laundry each day
Laundry can be a scary beast if it gets out of hand. Stay on top of the laundry monster by running at least one load each day. Instead of folding all the clothes and putting them away yourself, give each family member a laundry basket. When it gets full, it goes to the wash. When it comes back, it's each person's responsibility to fold it and put it away. Think your kids can't do it on their own? Think again! Even very young children can put away their own clothes if their drawers are easily accessible and labeled with pictures.
Don't go to bed with a dirty kitchen
No one likes to get up to a dirty kitchen! Make a rule that no one can leave the dinner table each night until the kitchen is spotless. This means all leftovers are stowed away, dishes are washed, floors are swept and counters disinfected. With everyone in the family helping, you can knock that bad boy out in 10 minutes flat. Bam! You're done.
More on home and living
Declutter your life in 8 easy steps
5 Tricks to make your bedroom more relaxing
7 Ways to give your bedroom a facelift