Making Family Fitness Fun
Posted on Jul 26, 2012 8:30 AM by Kori Ellis
Staying fit and healthy is important for everyone. Incorporate exercise into the lives of your kids at a young age to help them establish healthy habits that will last a lifetime. Exercise doesn't have to be boring either. Staying fit as a family can be a whole lot of fun. Check out these five fun ways to exercise together as a family.
---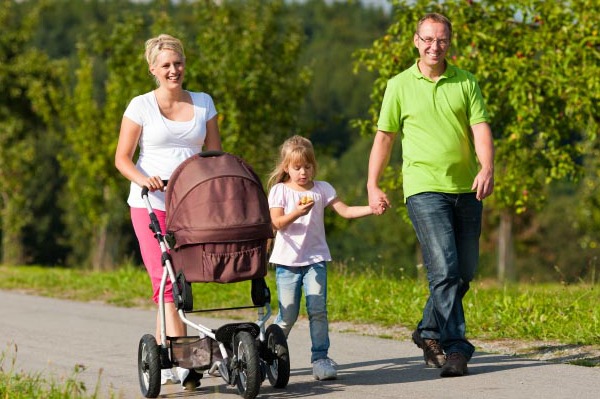 After dinner walks
Everyone in the family can go for a walk together. If you have babies or young toddlers, just bring along the stroller. Walks are a great way to incorporate exercise into your regular daily schedule. They also provide an opportunity to talk to your kids without the distractions of electronics or TV. Make walking together an evening ritual, before or after dinner.
Commercial fitness
If your family watches TV together, you can add a little bit of exercise on the commercial breaks. Your little ones will love trying to do sit-ups or getting up to march in place. Two minutes of exercise is certainly better than none and these micro-workouts can be a great way to have a little fun instead of just zoning out in front of the boob tube.
Sunday football
Make it a tradition to play a sport together as a family one day a week. Consider everything from flag football to beach volleyball to doubles tennis. Partner with another family in the neighborhood and play against them! Teaching your kids about healthy competition and teamwork is important, no matter their ages.
Charity runs
Walking or running for charity is a fantastic way to give back to the community, stay fit and bond as a family. In most major cities you can find a charity walk or run every month -- if not every weekend. On the weeks that there's not an event, you can be training together for the next one.
Gardening
Gardening and yard work can be wonderful exercise for the whole family. Kids love getting dirty and learning about nature too. Whether you are planting flowers or vegetables, it doesn't really matter. However, growing your own food is a terrific way to teach your kids about green living. As an added bonus, they'll be more apt to eat their veggies if they have grown them!
More about fitness
Best postpartum fitness tips for new moms
Top 5 fitness myths
7 Hottest fitness trends of 2012