Posted on Jul 30, 2012 8:00 AM by Naomi de la Torre
Eating locally isn't just the most eco-friendly option, it's tastier and healthier too! Learn why filling your table with local foods is best for you and the world we live in.
---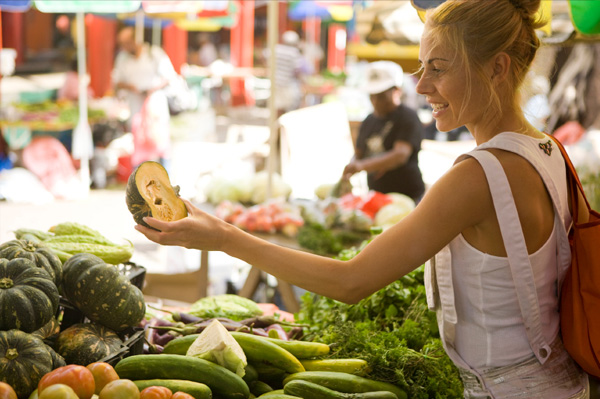 Local food is fresher and tastier
Locally grown foods are picked when they are at their peak so they taste delicious and fresh. When farmers grow organic crops that are suited to their natural environments, they are also likely to have more nutrients. Not only do they avoid pesticides, fungicides and genetic modification, but they also skip being irradiated in order to last longer on store shelves.
Know where you food comes from
Worried about food safety? According to Sustainable Table, foodborne illness sickens 76 million people, causes 325,000 hospitalizations and kills 5,000 people every year in the United States. The average item of food in the United States travels more than 1,500 miles before it hits your table. This creates a very large carbon footprint and a much longer trail to follow if any problems arise. Don't play guessing games with your food. Shop locally and you know exactly what you are getting.
Discover local variety
Have you ever tasted a berry fresh from the vine? Its delicate flavors are so overwhelmingly delicious, you might feel like you've never eaten berries before in your life. Rachelle H. Saltzman, director of the Iowa Place-Based Foods project, explains, "Place-based foods have a unique taste related to the soil, water, air and climate of a region, as well as the ethnic or regional heritage of their producers."
When you eat what's in season, you might miss having watermelon and peaches in the winter. But in the long run, you will discover a storehouse of local variety and unique flavors that you never knew existed. Each region of the country has its own heirloom delicacies that never make it to the grocery store shelves. Visit your local farmer's market and dig in to all that tasty goodness!
Conserve energy
Instead of eating food that was grown halfway around the world, you can help conserve energy by purchasing local produce, meats and dairy. Not sure where to find local food? Check local farmer's markets, farmer co-ops and natural grocers. Still lost? Visit Local Harvest to find the best organic food closest to you.
Support sustainable farming
Interested in living simply and sustainably? Eating locally is a great way to support sustainable agriculture. Unlike industrial agriculture which is causing the rapid deterioration of topsoil, local farmers are invested in soil stewardship and environmentally sound growing practices.
Preserve local beauty
Do you have a beautiful view from your kitchen window? You can help to preserve the natural landscape in your region by supporting local farming. Local farms are smaller, which helps to protect the natural wildlife and preserve open spaces. This also helps to support the local economy which is beneficial to the entire community you live in.
VIDEO: Why eat locally?
Listen in as Michael Pollan explains all the benefits of becoming a locavore.
More on healthy living
5 Fun ways to exercise together as a family
Best postpartum fitness tips for new moms
6 Simple ways to teach your kids to go green