Peanut Free Lunches
For Kids
Posted on Aug 06, 2012 8:00 AM by Naomi de la Torre
Many schools are banning peanuts and peanut butter from school lunches to protect kids with serious peanut allergies. Looking for some tasty and healthy peanut butter free lunchbox ideas? We've got you covered!
---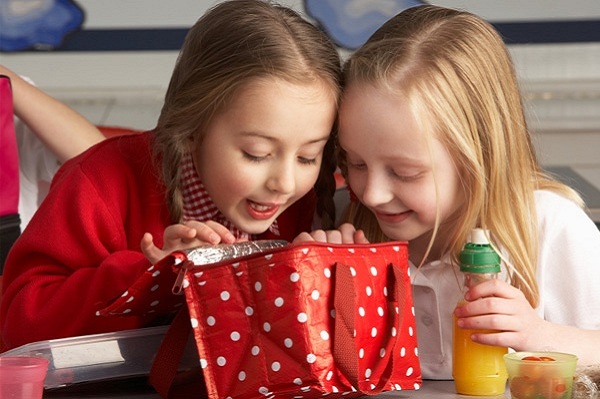 Chicken salad mini sandwiches
Chicken salad is a delicious and healthy school lunch. It travels well and can be dressed up with all kinds of yummy ingredients. Want to add a nutty twist? Most kids love the addition of pineapple and sliced almonds or red grapes and crushed walnuts is another classic family fave. Slather it on your favorite whole grain bread and cut into kid-sized sandwiches perfect for little hands.
Cucumber and cream cheese
There's nothing like a crunchy cucumber and cream cheese sandwich to add some sparkle to your midday meal. Keep it simple with thin slices of cucumber and plain cream cheese or add a little zest with flavored cream cheeses like dill, chive or basil.
Tortilla pinwheels
Tortilla pinwheels are fun to eat! Just layer cream cheese, cilantro, turkey and ham on a whole wheat tortilla. Roll that baby up, slice into pinwheels and lunch is ready in a snap!
Hummus and pita chips
Tired of sandwiches? Get your dip on! There are lots of healthy dips that you can add to your children's lunchbox to mix things up. Hummus and pita chips are a healthy combo that your kids are sure to love.
Ham and apple grilled cheese
Ham and apple make the perfect pair in this finger-licking good grilled cheese. Thinly sliced apples add a surprising sweet crunch your favorite grilled cheese recipe.
Chili and cornbread
Do you have a kid-sized thermos? If not, it's time to get one. You can keep things interesting at lunchtime with soups, stews, pastas and more. Not to mention, this is a great way to use up leftovers! Chili and cornbread is a delicious kid-friendly lunchtime fave.
California rolls
Love sushi? Pop a handful of California rolls into your child's lunchbox for a yummy surprise. Pair with a tangy sesame sauce for an all-star lunch.
Almond butter and jam
Still jonesing for a PB&J? There are lots of yummy non-peanut nut butters to try. Almond butter is a hit with most kids, but sunflower butter, hazelnut butter and cashew butter are also delish!
More healthy lunches
5 Reasons to pack your lunch
Best brown bag lunch ideas
8 Back to school lunches kids will love