Sweet Potato Fries Recipe
Posted on Aug 14, 2012 8:30 AM by Naomi de la Torre
Crispy, zesty and oh-so-good, sweet potato fries are the perfect addition to any meal. Learn how to make this healthy alternative to regular fries that everyone in your family is guaranteed to love.
---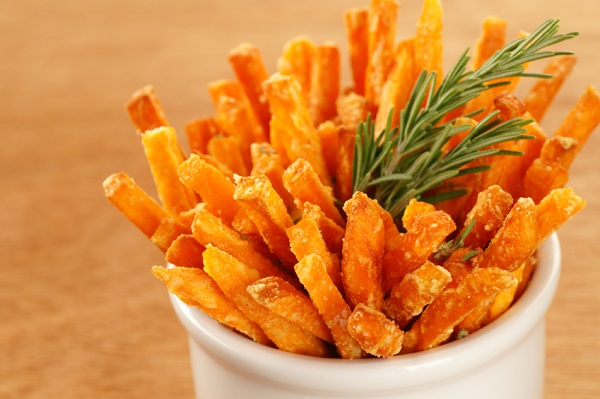 Orange-fleshed sweet potatoes are the perfect alternative to white potatoes because they are richer in nutrients, have a lower glycemic index and taste great too! They are popping up in recipes everywhere as people discover their extraordinary health benefits. Sweet potatoes have been shown to help fight cancer, lower cholesterol, improve skin conditions and help with blood sugar regulation. Replace white potatoes with sweet potatoes in any recipe for an added boost of flavor and fun.
This recipe for sweet potato fries can be spiced up with cayenne pepper and other goodies for a sizzling adult treat or made with simpler flavors for kids.
Sweet Potato Fries Recipe
Serves 6

Ingredients
5 large sweet potatoes
3 tablespoons olive oil
1/2 teaspoon coriander
1/2 teaspoon fennel
1/2 teaspoon paprika
1/2 teaspoon cayenne pepper
1/2 teaspoon oregano
2 teaspoons salt
Olive oil baking spray
Directions
Preheat oven to 425 degrees. Line 2 large baking sheets with aluminum foil and coat with olive oil baking spray.
Peel your sweet potatoes and cut into strips about 1/2 inches wide.
Grind your spices, herbs and salt together in your spice blender. You can also do this by hand with a mortar and pestle.
Mix the ground spices with the olive oil and pour into a large bowl with sweet potatoes. Using a spatula, gently coat the potatoes with the spicy oil mixture. (If making this recipe for kids, leave out the spices and just use oil and salt.)
Once your potatoes are thoroughly coated, lay them out on your greased pans. Make sure that the potatoes are not overlapping or they will not get crispy.
Bake for 30-40 minutes at 425 making sure to flip them once during baking so they brown evenly on both sides.
Note: You can use this recipe to make other yummy root veggie fries such as beets, turnips, parsnips, rutabagas and carrots. Use your creativity to experiment and have fun!
More yummy recipes
Homemade gnocchi recipe
Fresh fruit ice pops
Mouthwatering black bean brownies