Posted on Aug 21, 2012 1:00 PM by Naomi de la Torre
Rev up the romance and make your man melt with these swanky summer date ideas.
---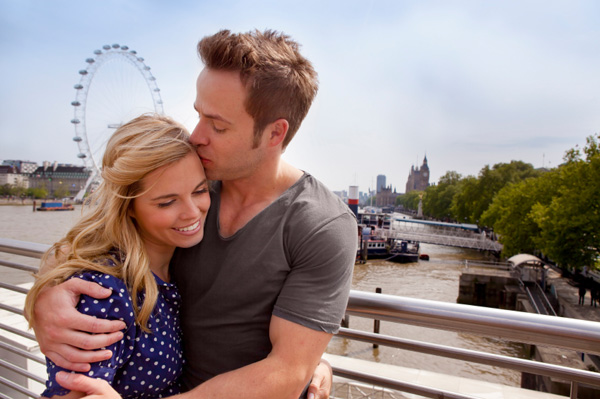 Salsa dancing
Muy caliente! There's nothing spicier than a night of swinging your hips under the stars. Check your local listings for a salsa dance club near you and cha-cha your way into each other's hearts.
Take a hike
Get outside and enjoy the sweet sunshine! Summer is the perfect time to explore the natural beauty in the walking paths, hiking trails and other scenic destinations in your area. Not sure where to begin? Discover all the best hikes in your area at WebWalking.
Go garage sailing
Looking for something different to do? Go garage sailing! Digging through other people's forgotten treasures is a great way to get to know your sweetheart on a whole new level. ("So… when were you planning to tell me about your obsession with porcelain Michael Jackson figurines?") Not to mention, you are guaranteed to have a blast without spending a fortune.
Couples yoga
Get your namaste on at a refreshing couples yoga retreat. Couples yoga is a powerful way to strengthen your relationship while you build inner harmony together.
Outdoor cinema
Love the movies? Go old school and catch a flick at an outdoor movie theatre. There's nothing more romantic than cozying up together to watch a good film under a sky of twinkling stars. Can't find an outdoor theatre near you? Check the local pools and parks for special summer screenings.
Picnic in the park
You don't have to spend a wad of cash to bump up the summertime romance. Plan a surprise picnic in the park. Pack up a basket with all your sweetie's favorites, spread a blanket, kick back and enjoy the blue skies together.
Get your fiesta on
Summertime is full of festivals, fairs and non-stop fun. Take advantage of all the special events offered in your city and get your fiesta on!
More summer fun
7 Things to do before summer ends
Fun outdoor workouts for summer
Splish splash! Swimming pool games for kids