Posted on Sep 03, 2012 8:30 AM by Naomi de la Torre
Bored with breakfast cereal? Surprise your family with a yummy breakfast treat. This recipe for banana pecan French toast is light, refreshing and melt-in-your-mouth delish!
---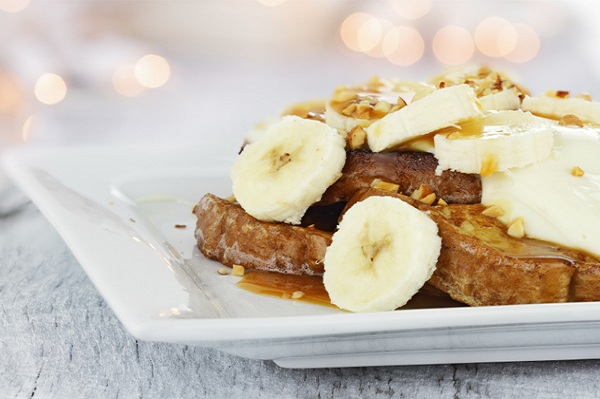 Ingredients
8 slices thick-cut multigrain bread
3/4 cup milk
3 eggs
1 tablespoon flour
2 tablespoons organic cane sugar
1 teaspoon vanilla extract
1/4 teaspoon salt
1 teaspoon cinnamon
Butter for frying
4 whole bananas
1/2 cup chopped pecans
Maple syrup
Directions
In a medium size bowl, whisk together milk, eggs, flour, 1 tablespoon sugar, vanilla extract and salt. Set aside.
Heat your griddle or large frying pan to medium heat.
Take your multigrain bread slices and dip them into the wet ingredients, taking care to moisten on all sides.
Add a small pat of butter to your frying pan and cook toast on both sides until it turns a lovely golden brown.
Remove from the pan, sprinkle with sugar and cinnamon and set aside. Add more butter to the pan and continue frying until all the bread is toasted.
While bread is frying, chop bananas into small rounds.
On each plate, place 2 slices French Toast, a heap of banana slices and a handful of chopped pecans. Drizzle with thick maple syrup and dig in!
If you really want to get extravagant, you can replace the maple syrup with melted chocolate and decorate each plate with a flourish of fresh whipping cream. Nom nom!
More yummy breakfast recipes
Pumpkin pie pancakes
Huevos rancheros recipe
Wafflepalooza! 8 Wonderful ways to eat waffles