Posted on Sep 17, 2012 10:00 AM by Naomi de la Torre
Cozy up to the colorful flavors of fall with a festive fall coffee drink. Our pumpkin spice latte is packed with tantalizing spices that will make a sweet addition to your every morning.
---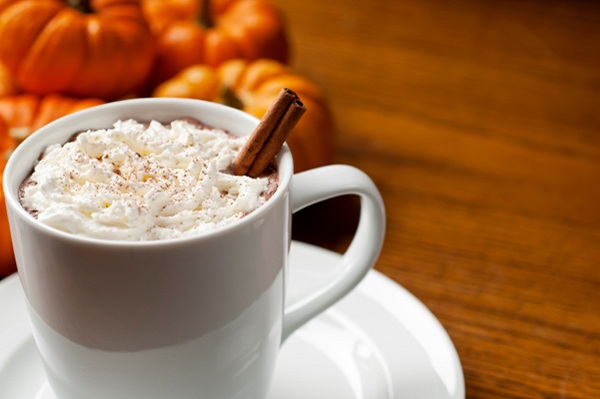 Ingredients
To make pumpkin syrup
1 cup water
1 cup brown sugar
1/4 cup fresh or canned pumpkin
1 teaspoon pumpkin pie spice
1 teaspoon cinnamon
1/2 teaspoon fresh squeezed ginger
1 dash nutmeg
1 teaspoon vanilla extract
To make latte
1 shot espresso
1 cup milk
2 tablespoons pumpkin spice syrup
Heavy whipping cream
Pumpkin pie spice
Directions
Take a piece of fresh ginger root and grate it into thin shavings. Over a small bowl, take the ginger shavings and squeeze them with your hand to remove the juice. Throw away the shavings and reserve the juice.
If you'd like to use fresh pumpkin to make your pumpkin syrup, cook a small pie pumpkin. Pie pumpkins are smaller and sweeter than the pumpkins you might use to carve a jack-o-lantern, so if you are unsure if you have the right kind of pumpkin, ask your grocer. At home, cut the pumpkin in half, scrape out the seeds and then place the pumpkin face down on a baking sheet. Cook for 30-45 minutes at 350 or until tender. Scrape out the flesh and toss away the rind. You will only need a small amount of pumpkin for this recipe, so reserve the rest to make a yummy pumpkin pie, pumpkin bread or if you're feeling ambitious – both!
Pour 1 cup water into a small saucepan and bring to a rolling boil. Add 1 cup brown sugar and reduce heat to simmer while sugar dissolves. Now you can add 1/4 cup of fresh cooked pumpkin (or if you want to save time, canned works fine too), 1/2 teaspoon of your fresh squeezed ginger, vanilla extract and the rest of your dry spices. Don't skimp and used powdered ginger! The fresh squeezed ginger will give your latte that extra special zing that will keep your friends and family wondering how to did it.
Use a cheesecloth or coffee filter to strain pulp out of the pumpkin syrup. Pour the pumpkin syrup into a glass bottle with a tight-fitting lid. Keep it in the refrigerator and you can use it over the next few weeks until it's gone.
Prepare a shot of espresso with your espresso machine. If you need an extra kick, add an extra shot or two. Steam your milk until it's beautifully frothy. Pour the espresso shot into the steamed milk, along with a couple of tablespoons of your homemade pumpkin spice syrup. Top with whipped cream and a dash of pumpkin pie spice. Voila! Say hello to pumpkin magic in a mug.
Note: If you don't want to go to the trouble of making the pumpkin syrup yourself, there are several delicious pumpkin spice syrups you can buy online or at your favorite coffee specialty shop like this one from DaVinci.
More yummy drink recipes
Chai tea latte recipe
Best avocado smoothies
How to make Mexican aguas frescas