Decorate Your Front Door For Fall
Posted on Sep 20, 2012 10:30 AM by Kori Ellis
Christmas isn't the only time of year you should decorate your front door. For fall, add a beautiful wreath in autumn colors to provide a warm, colorful welcome to your guests.
---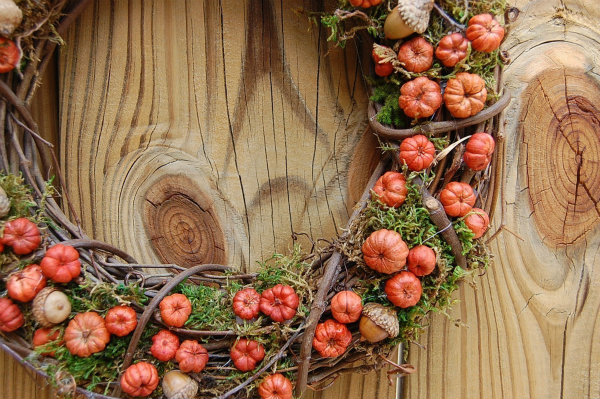 These five fabulous wreaths from Etsy are the perfect way to decorate for fall.
Orange berry wreath
Berry wreaths offer a traditional look that works with any decor style. This berry wreath is highlighted by a wonderful blend of fall hues that you'll adore. This gorgeous wreath features orange artificial berries in a variety of sizes for plenty of color and texture. It measures 17 inches across and is available from the Greenwood Wreaths Etsy shop ($54).
Owl mini wreath
For something totally different, check out this owl wreath. Owls are popular right now in fashion and decor. This little owl sits perched on the brown yarn covered wreath. At just eight inches, this mini wreath would look great as part of a tablescape or hanging above a mantle. This fall wreath is available from Swirl Sisters Etsy shop ($28).
Natural square wreath
Not every wreath has to be round. This square fall wreath is comprised of salal leaves that are lightened in the sun for three weeks and then attached to a square metal frame, along with black bearded wheat. The result is a beautiful, original door decoration that you'll love for years. This big wreath measures over 23 inches in diameter and is available from the Elegant Holidays Etsy shop ($80).
Mini pumpkin wreath
Created with a moss and grapevine base, this fall wreath is highlighted with mini pumpkins (putka pods) and baby acorns. This gorgeous fall wreath will last for years as long as you keep it out of the direct sunlight. This mini pumpkin wreath is available from the Roseflower48 Etsy Shop ($40) and is made to order.
Halloween pumpkin mesh wreath
On Etsy, you can find a wide variety of Halloween wreaths, from scary to funny and everything in between. We love the bold color and simple style of this curly mesh pumpkin wreath. Perfect for Halloween and all season long, this wreath will certainly brighten up your door. This pumpkin wreath is available from the YoungLoveDecor Etsy shop ($30).
More about fall
Fantastic ways to have fun this fall
Easy (and chic!) fall design tips
Make whole wheat zucchini bread