Bring On The Pumpkin Magic
Posted on Oct 15, 2012 11:00 AM by Naomi de la Torre
Finished making pumpkin pies and stuck with an extra cup of pumpkin filling? Don't toss it out yet! We've got 10 tasty ways to use up extra pumpkin puree that will make your mouth water. Mmmmm…
---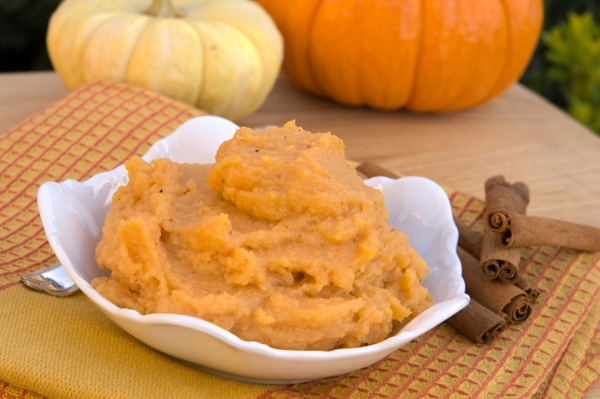 If you've gone to the trouble to cook up a fresh pumpkin to make your pumpkin pies this year, there's no way you want to toss out even a tablespoon of that delicious homemade pumpkin puree. You might, however, be scratching your head trying to come up with creative ways to use it. Check out these popular and easy recipes that are guaranteed to make all your pumpkin fantasies come true.
Pumpkin spice latte
You don't have to stand in long lines to get your favorite fall drink anymore. Try making a pumpkin spice latte in your very own kitchen with this simple recipe.
Pumpkin pie pancakes
Fill up your belly with this incredible recipe for pumpkin pie pancakes. Topped off with chopped walnuts and caramel syrup, these pancakes are so moist they will melt in your mouth.
Pumpkin gnocchi
Pumpkin desserts are yummy, but this savory recipe for homemade pumpkin gnocchi will blow your mind. Plump little dumplings covered in a rich, sage butter sauce are a match made in heaven.
Pumpkin spice oatmeal
Add a tablespoon of pumpkin puree to your morning bowl of oatmeal for an irresistible fall twist on your morning meal.
Ravioli with pumpkin cream sauce
Cook up a batch of your favorite ravioli and drench it in pumpkin magic. Simply heat 1/2 cup pumpkin puree with 1/2 cup heavy whipping cream, 1/2 cup Parmesan cheese and a dash of nutmeg in a small saucepan. Salt and pepper to taste. Pour over heated pasta and serve immediately.
Best ever pumpkin muffins
Cozy up to fall with this outrageously delicious recipe for pumpkin muffins. Like a little pizzazz with your morning muffin? You can jazz up this recipe with dried cranberries, walnuts, raisins or even chocolate chips.
Pumpkin pie pillows
If you've got a fancy dinner planned this fall, this is the perfect dessert. Pumpkin pie pillows are elegant and amazingly yummy too!
Savory pumpkin hummus
If you love the zesty flavors of hummus, you are going to fall head over heels for this savory pumpkin version. Simply add 1/4 cup of pumpkin puree, a squeeze of lemon and a teaspoon of fresh rosemary to your favorite hummus recipe. Voila!
Pumpkin cheesecake
Pumpkin and cream cheese meet up to make dreams come true in this tantalizing recipe for pumpkin cheesecake.
Pumpkin mac n' cheese
Heads up, sneaky chefs! Want to add a little extra nutrition and flavor to your kids lunch? Add a half cup of pumpkin to your favorite mac n' cheese recipe. Nom nom.
More fall recipes
Best zucchini bread recipe
How to make homemade sweet potato rolls
Crock pot caramel apple recipe