Posted on Oct 25, 2012 7:00 AM by Naomi de la Torre
Looking for a fun way to celebrate the fall season? Try whipping up a delicious batch of homemade apple cider to share with friends.
---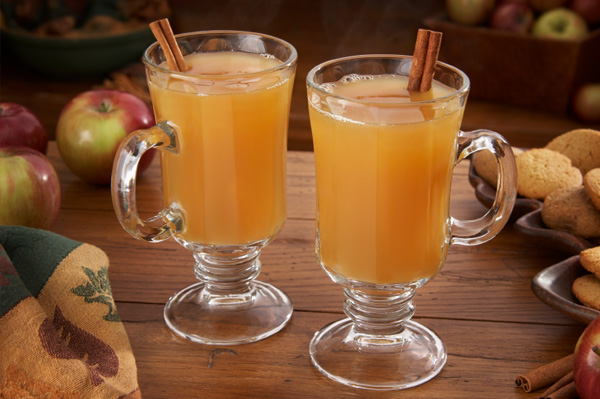 Homemade apple cider is the perfect way to warm up your belly on a chilly fall morning. If you have a juicer or blender, this recipe is a cinch to make in your own kitchen.
Homemade Apple Cider Recipe
Makes 2 quarts
Ingredients
20 medium apples
4 Cinnamon sticks
1 teaspoon whole allspice
1 teaspoon whole cloves
Supplies
Juicer or blender
Large cooking pot
Nutmilk bag
Cheesecloth or tea strainer
Crock pot
Directions
The key to making sweet homemade apple cider is picking the right apples. It's fine to use a mix of different types, just make sure that all the apples you use are sweet varieties like Red Delicious, Yellow Delicious, Fuji, Gala, Sonya, Cameo or Jonagold.
Wash and dry all your apples thoroughly.
If you are using your juicer to make the apple cider, you may not need to do any more prep at all. Some juicers have a large feed shoot, so simply begin feeding the clean apples into the shoot and capturing the juice. (if you have a juicer with a smaller feed shoot, chop the apples to the correct size before feeding the fruit into your juicer.)
If you are using your blender to make the apple juice, chop and core the apples first. Then place a large cooking pot with about 4 inches of water on the stove to boil. Add your chopped apples and cover with a tight fitting lid. Cook until the apples are soft to the touch.
Pour the cooked apples into the blender in batches and blend on high. Strain the mixture through a nutmilk bag to remove the pulp.
Pour your freshly made apple cider into your crock pot. Tie up your whole allspice and cloves in a piece of cheesecloth or tea strainer. Add the allspice, cloves and cinnamon sticks to the crock pot to simmer. The spices will flavor the cider without leaving a grainy residue. Cook on high for a couple of hours until your cider is deliciously mulled. Pull out your favorite mugs and serve hot.
For a fun fall garnish, use fresh cinnamon sticks as straws!
More fall fun