DIY Home Beauty Treatments
Posted on Nov 30, 2012 8:00 AM by Naomi de la Torre
Add a personal touch to your holiday gift-giving this year with these luxurious, all-natural homemade beauty recipes.
---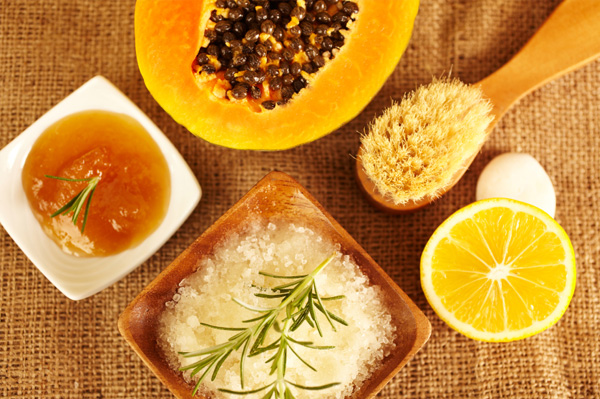 Homemade gifts are hip and happening this year, so why not give them a try? You don't have to be an Etsy genius to whip up a batch of these simple recipes guaranteed to give your loved ones an indulgent at-home spa experience.
Aromatherapy Bath Bombs
Add a little fizzy fun to your bath with this simple recipe for aromatherapy bath bombs.
Ingredients
1 cup baking soda
1/2 cup citric acid
1/2 cup corn starch
1/2 cup Epsom salts
2 teaspoons water
2 teaspoons essential oil
2 tablespoons jojoba oil
2-3 drops food coloring
Spray bottle
Bath bomb molds
Directions
Mix the dry ingredients (baking soda, citric acid, corn starch and Epsom salts) until they are smooth and clump-free.
Mix your wet ingredients together (water, essential oil, jojoba oil and food coloring). This is a fun time to experiment with different essential oil combinations to create a fragrance you love. Some of our favorite combos are ginger peach, eucalyptus spearmint and vanilla jasmine.
Slowly add your wet ingredients to your dry ingredients using a whisk to evenly stir everything together. When your mixture begins to clump together between your fingers, stop adding the wet mixture. The total amount of wet mixture needed can change depending on the overall humidity in the environment.
Now, press your mixture tightly into your bath bomb molds. Wait 15 minutes and remove the bath bombs. Let them air dry overnight and voila! Your bath bombs are ready to give away.
Need a fun packaging idea? Line a small wicker basket with pretty face cloth on which you can display your bath bombs. Or package your bath bombs in a Mason jar with a colorful bow on top. Be sure to include a label with instructions on how to use your beauty products.
Tangerine Honey Lip Balm
Soothe your chapped lips this winter with our rich and silky recipe for tangerine honey lip balm.
Ingredients
4 tablespoons petroleum jelly
4 tablespoons beeswax
1/2 teaspoon vitamin E oil
10 drops tangerine essential oil
2 teaspoons honey
Lip balm containers with tight fitting lids
Directions
Spoon the petroleum jelly and beeswax into a small microwave safe bowl. Place the bowl in the microwave and heat for 3 minutes. Stir together until smooth.
Wait 3-5 minutes until the mixture cools off.
Slowly add vitamin E oil, tangerine essential oil and honey. While you stir, the mixture will begin to thicken to a consistency like frosting. Scoop the balm into cute containers, apply personalized labels and give away!
Lavender Peppermint Foot Scrub
Scrub your troubles away with this exfoliating lavender peppermint foot scrub that is guaranteed to leave your dogs feeling tingly fresh and fabulous!
Ingredients
4 cups sea salt
2 cup almond oil
1 cup vitamin E oil
20 drops lavender essential oil
20 drops peppermint essential oil
Directions
Combine all ingredients together in a large bowl to form a gritty paste.
Use French jelly jars to package your foot scrub with a pretty homemade label including instructions.
Tie with a decorative ribbon for a festive finish.
More holiday gift ideas
Last minute gifts they'll love
Easy homemade Christmas gifts
Eco-friendly gift wrap alternatives