Posted on Dec 06, 2012 8:30 AM by Naomi de la Torre
Looking for some creative Elf on the Shelf ideas to keep your family laughing all season long? Take this Christmas tradition to the next level with these silly elf antics.
---
Elf on the Shelf is the hottest new holiday tradition and we know why. This interactive Christmas hide and seek game (based on the picture book written by mother and daughter Carol Aebersold and Chanda Bell) is fun for the whole family. Kids enjoy waking up each morning to discover new elf shenanigans, while parents have a blast creating elf mischief all night long. Need a few ideas to get you started? We've got you covered.
Elf in love
Elf and Barbie get busted kissing under the mistletoe.
Elfin makeover
He's as bad as the kids! Discover your elf playing with your makeup kit and giving Junior's action figures a makeover.
Zippin' around
Elf makes his own zip-line out of dental floss in the bathroom.
Snowball fight
Tsk tsk! Elf and friends (Barbies, Polly Pockets, Lego mini figures, etc.) make their own winter wonderland with bags of different size marshmallows.
The elf ate my homework
Your child will have a lot of explaining to do when he discovers that the elf ate his homework.
Living room campfire
There's nothing more fun that a little living room campfire. Place your elf at the edge of the fireplace happily roasting marshmallows on a pair of chopsticks.
Twister Elf
Wake up to find all your favorite toys tangled up in a rousing game of Twister.
TP'd Christmas tree
Who knew that elves could be so naughty? Cover the Christmas tree with toilet paper for a silly surprise.
Lunchbox love
Elf tries to be sweet and packs your child's lunch. Unfortunately, he packs all the wrong things like a can of sardines, a box of uncooked macaroni and 3 bottles of pancake syrup.
Elfin email
Catch your elf sending an email to Santa that's still up on the computer screen when you wake up.
Switched stockings
Who else would think to switch out the Christmas stockings with pairs of underwear? Sheesh!
Making Christmas ornaments
Discover your elf getting crafty at the kitchen table with a huge mess of glitter, beads, pinecones and other craft supplies.
Movie night
Set up your elf and friends for a night at the drive-in movie theatre when they take your remote control car out for a spin. Leave a fun Christmas classic on the TV that the kids will also enjoy when they wake up!
Breakfast in bed
Who left this breakfast tray next to your bed with a tasty meal of dog food, candy corn and ketchup? Silly elf!
Doodling elf
Get out your washable dry erase markers and have a whole lot of naughty elf fun drawing mustaches on framed family photos for your kids to discover when they wake up.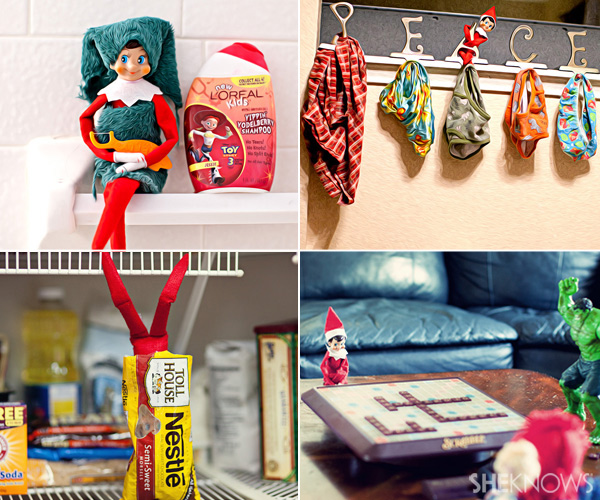 Want some more creative Elf on the Shelf ideas? Check out our fun Elf on the Shelf photo gallery >>
More Christmas fun
How to make a gingerbread latte
Easy homemade Christmas gifts
12 Fresh ideas for family Christmas traditions