World's Best Bread Pudding Recipe
Posted on Dec 02, 2013 8:00 AM by Naomi de la Torre
The perfect way to use up holiday baked goods, this amazing recipe for bread pudding will rock your world.
---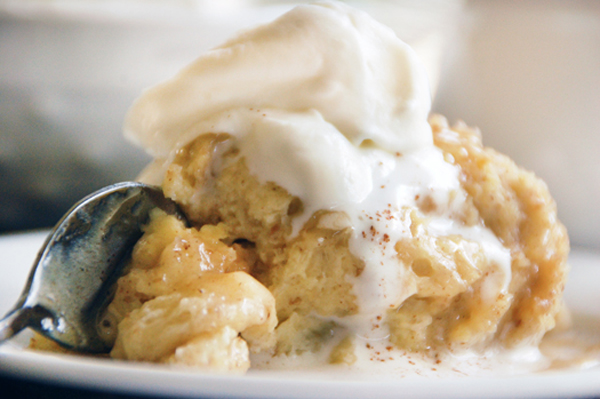 Years ago when I worked in a bakery, the signature dish was an amazing bread pudding that made customers drool. It was so good that some folks claimed it changed their lives. Life-changing bread pudding? Kind of hard to imagine for anyone whose only experience with bread pudding is the kind that features dry bread mixed with raisins.
But this bread pudding belonged to a whole other category of desserts. It had been touched by the bread pudding gods. The secret? It was made from stale cake tops, muffins and other leftover baked goods instead of plain bread. Decadent? Absolutely. High calorie? Definitely. Totally worth it? 100 percent.
If you are looking for a delicious way to use up leftover sweet breads and other goodies from the holidays, this recipe is the perfect solution. Just cut your muffins, cakes or quick breads into small pieces and leave them out overnight to stale. In the morning, mix up this recipe for bread pudding and I promise you will fall in love. Forever.
Ingredients
For the bread pudding
3/4 cup granulated sugar
5 eggs
2 cups milk
4 tablespoons melted butter
1-1/2 teaspoons vanilla
3 cups stale bread, cake or muffins
For the crumb topping
1 cup flour
2/3 cup light-brown sugar
6 tablespoons chilled salted butter, cut into pieces
For the sauce
1/2 cup butter
1/3 cup granulated sugar
2/3 cup light-brown sugar
2/3 cup whipping cream
1 tablespoon vanilla
Directions
Preheat the oven to 375 degrees. Grease a 13x9 inch pan.
In a small bowl, beat eggs with an electric hand mixer for 1 minute on high. Set aside.
In a medium bowl, stir together sugar, eggs, butter, milk and vanilla. Add stale cake pieces and gently mix until the cake is moistened.
Pour the mixture into your greased pan.
In a small bowl, mix flour and brown sugar together. Using a pastry cutter, cut the chilled butter pieces into the flour/sugar mixture until clumps form. Sprinkle the topping over the bread pudding.
Bake the pudding for 35-40 minutes until it browns on top.
In the meantime, make the sauce. On your stovetop, heat butter, granulated sugar, brown sugar, whipping cream and vanilla while stirring frequently. When it begins to boil, reduce heat and cook on low until the mixture begins to thicken. This should take approximately 6-9 minutes. Make sure to keep stirring while the sauce thickens. When finished, remove from heat and set aside.
When bread pudding is ready, slice and serve warm with a generous drizzle of warm sauce and vanilla ice cream. Mmmm… Heaven in a pan.
More yummy recipes
Mouthwatering gingerbread waffles
Swoon-worthy red velvet cookies
How to make a pumpkin spice latte