Posted on Aug 01, 2013 10:00 AM by Monica Beyer
If you're a new mom (or will be soon), you may be pondering what you really need to pack in your diaper bag for your baby's first outings. We've got the inside scoop!
---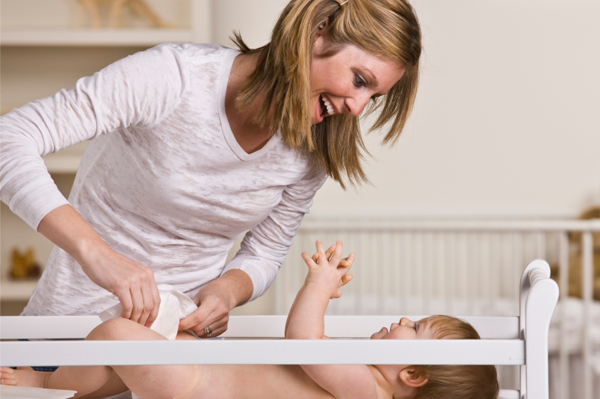 Diapers
Diapers are the most obvious choice for your diaper bag, of course! A good rule of thumb is to pack a couple more than you anticipate needing -- this goes for cloth, as well as disposable. It's so much better packing a few more diapers and not needing them than not packing enough and having a major blowout.
Wipes
Whether you like reusable wipes or cloth wipes -- you'll need a lot of them. Many moms buy a portable pack for their diaper bags, and again, make sure you have more than you need. They will come in handy for more than just diaper changing times, such as a quick cleanup after lunch or after playing at the park.
A waterproof bag
Waterproof bags or "wet bags" are often thought of as generally the domain of cloth diapering moms -- you can hold the used diapers in them until your return trip home (see some examples of wet bags here). Even if you don't use cloth diapers, they still come in handy. You can use them to transport wet or dirty clothes, blankets or other baby gear, because if one thing is certain as a mom of young child or baby, messes can and do happen. Also, don't forget to pack a change of clothes for your baby!
Entertainment
You'll want to pack a bit of entertainment for your baby -- and even yourself. Small toys or books make great additions to your diaper bag, but most bags have room for cell phones and tablets too, which can be your saving grace for your baby if you're waiting at a busy doctor's office, or yourself if you're waiting in the pickup line at school.
Mommy necessities
You may be able to forgo a purse and just use your diaper bag as your only bag. You can put a small makeup bag in your diaper bag and get a small clutch to carry your wallet that you can remove if you go somewhere without your baby. Medications can be carried in a diaper bag too -- for you, your baby or your older children. But don't forget to keep your diaper bag out of your baby's reach, especially if you have expensive electronics or medications stashed inside.
More on mom time
Quick cleaning tips for busy moms
5 Ways babies totally rock
How to soothe your colicky baby