Outdoorsy Ideas
For Family Fun
Posted on Sep 17, 2013 8:00 AM by Monica Beyer
When the weather starts to cool off, you can start thinking about starting a fabulous fall tradition with your family -- one to repeat each year as the temperatures drop and the leaves start to brighten with fall color.
---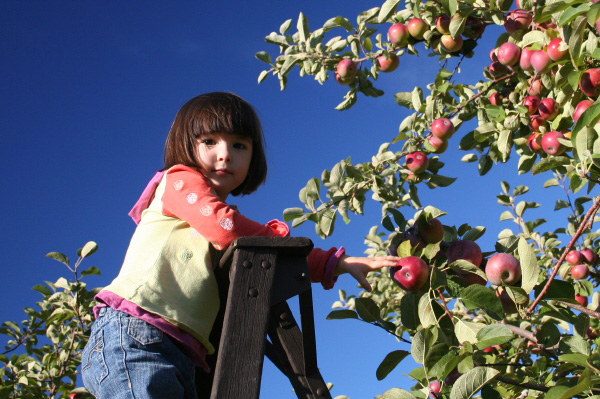 Fall is a wonderful time of the year. The intense heat and misery of the summer has finally dissipated, and you can enjoy being outdoors. The air becomes a little crisper and, if you start some really fun family traditions now, your kids will always look forward to this special time of the year.
Orchard visiting
Make a plan to visit an apple orchard or a pumpkin patch every fall. Find one close by, or make it a day trip -- or even book a weekend away for some serious apple-picking fun. Kids of all ages will love selecting the best bits from apple trees and, as the season wears on, pumpkin patches will be literally ripe for the pickin'. Some orchards go all out and offer kiddie rides, fall-themed concessions and petting zoos so it's easy to spend the whole day out with your family.
Camping
Fall is an excellent time to go camping. Weather can vary at this time of the year, but generally days are warm and nights are cool, which is perfect for snoozing. Gather up your family, the grandparents, siblings and cousins and book a few spots at a state or national park. Not up for tenting it? See if you can find a place that features cabins so you can have the camping experience without having to sleep in a tent, complete with campfires, hot chocolate and s'mores. Yum!
Outdoor exploring
Around the first day of autumn (this year the autumnal equinox falls on September 22nd) pack a picnic and head out with your kids and go to the nearest park, conservation area or even your own backyard. See if you can spot any tree leaves changing color and feast on a picnic lunch as you talk about the upcoming season change. Weave in an educational lesson in to your outing, discussing why trees do what they do and why the weather changes so drastically as we prepare for winter.
More fall fun
Favorite fall candle scents
5 Fall wreaths you'll love
Cold weather camping in the fall