Posted on Nov 04, 2013 8:00 AM by Naomi de la Torre
Celebrate the season with these gorgeous, brightly colored autumn leaf sugar cookies. Made with cream cheese, these sugar cookies are so good, they will melt in your mouth!
---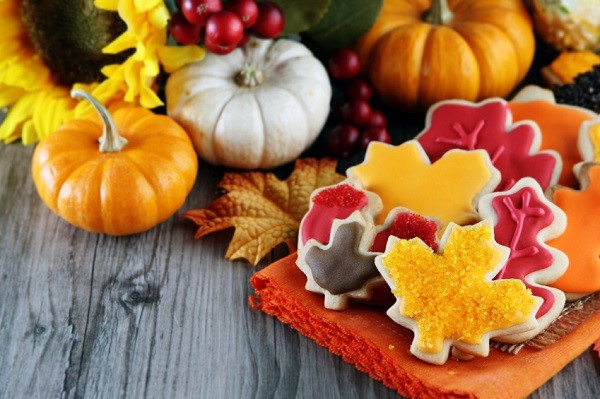 Ingredients
For the cookies
1 cup butter
3 ounces cream cheese
1 cup granulated sugar
1/4 teaspoon salt
1/4 teaspoon almond extract
1/2 teaspoon vanilla
1 egg yolk
2 cups all-purpose flour
Fall leaf cookie cutters
For the icing
2-1/3 cups confectioners' sugar
2 tablespoons light corn syrup
2 tablespoons plus 1 teaspoon milk
1/4 teaspoon almond extract
Food coloring in fall colors
Colored sugar
Directions
Before you get started making the cookies, leave your butter and cream cheese out on the counter to soften for an hour or two. Or, you can pop them in the microwave for about 10-12 seconds to speed along the process.
In a medium size mixing bowl, whip together butter, cream cheese, sugar, salt, almond extract, vanilla and egg yolk. (You can save the white to make an egg white omelet later!) Beat on high until light and fluffy.
Next up, blend in your flour. After the dough is mixed well, shape it into three disks, wrap them in cellophane and place them in the fridge to chill for an hour. (This will make for easier cookie rolling.)
Preheat your oven to 350 degrees. Take out one disk of dough at a time and roll it out to 1/8 inch thickness. Use your fall leaf cookie cutters to cut out your cookies. Place cookies on an ungreased cookie sheet. Bake for 8-11 minutes or until cookies are golden brown. Allow the cookies to cool to room temperature.
While the cookies are cooling, prepare the icing. Sift your confectioners' sugar into a large bowl. Add corn syrup, milk and almond extract and beat on high until smooth. Separate the icing in to 3 bowls to make different colors. Add 2 drops food coloring to each batch and stir well until the color is even. Put the icing in a piping bag and decorate the cookies to look like fall leaves. You can also add colored sugar on top for extra pizzazz!
More fall fun
10 Tasty things to do with leftover pumpkin puree
Fall family traditions to start this year
5 Fall wreaths you'll love