Chocolate Chip
Pecan Pie Recipe
Posted on Oct 04, 2013 8:00 AM by Naomi de la Torre
Everything is yummier with chocolate! Go nutty for this classic southern pecan pie vamped up with rich, gooey chocolate chips. Top with maple flavored whipped cream and crushed pecans for a decadent finish.
---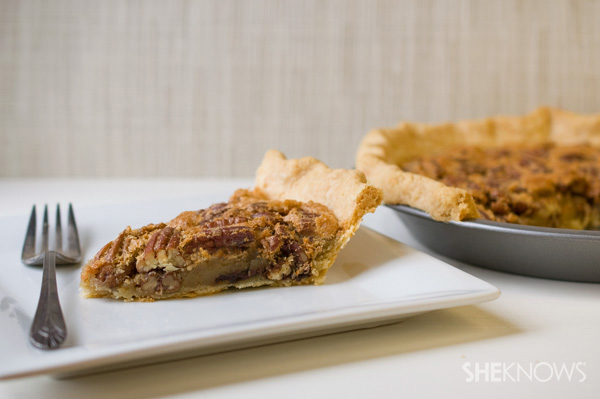 Ingredients
1 refrigerated pie crust
3/4 cup light corn syrup
1/2 cup granulated cane sugar
1/4 cup brown sugar
1/4 cup melted butter
1 teaspoon vanilla
4 eggs
1 cup semisweet chocolate chips
1 tablespoon flour
1-1/2 cups pecan halves
1/2 cup heavy whipping cream
1 tablespoon maple syrup
2 tablespoons crushed pecans
Directions
Prepare pie crust as directed on the packaging for a 9-inch pie pan.
Preheat your oven to 325 degrees F. In your kitchen mixer, blend together corn syrup, cane sugar, brown sugar, melted butter, vanilla and eggs. Beat well for 2 minutes until light and creamy.
In a small bowl, toss your chocolate chips with a tablespoon of flour.
In your prepared pie crust, place pecan halves and floured chocolate chips. Pour the pie filling on top of the pecans and chocolate chips.
Bake the pie for 1 hour or until the filling is golden brown.
In a medium bowl, whip the heavy cream with a tablespoon of maple syrup until light and fluffy.
Serve pie warm with fresh whipped cream and a sprinkling of crushed pecans. Swoon. Die happy.
More fall recipes
Autumn leaf sugar cookies recipe
How to make a Mayan mocha
Sinfully delicious pumpkin cheesecake