Spooky And Healthy
Halloween Eats
Posted on Oct 24, 2013 8:30 AM by Naomi de la Torre
Turn apples, carrots, bananas and other horrifyingly healthy foods into spooky Halloween treats that your kids are sure to love.
---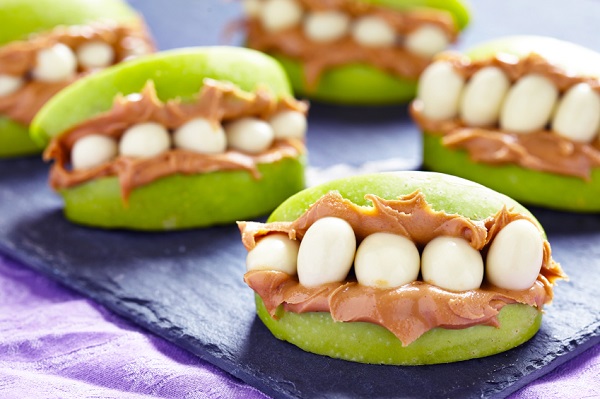 Ghoulish carrot fingers
Your little goblins will love making these ghoulish carrot fingers. Have them peel the carrots into long finger shapes and then use a dab of cream cheese to attach a slivered almond to the tips as fingernails. Muahahaha!
Yummy mummy hot dogs
Wrap up a ghastly treat for your little goblins and ghouls. Use crescent roll dough cut into thin strips to wrap your "mummies" from head to toe. Cook the dogs for 15 minutes at 350 until golden brown. Make sure to leave room for the mummies' faces, which the kids can design with mustard or ketchup and a toothpick.
Shrunken head apple cider
Give your guests a spooky surprise with this recipe for shrunken head apple cider. Peel a dozen small apples and use a pastry brush to paint them with lemon juice. Now, place them on a parchment lined baking sheet and bake them at 250 for two hours until they begin to shrivel and brown. Use a paring knife to carve faces into the apples, poking anise stars into the eye sockets for eyes. Float your "shrunken heads" in a big pot of spiced cider for a hair-raising Halloween party.
Spooky spiders
Scare up some creepy appetizers for your Halloween feast with a pile of spooky spiders made from eggs, olives and rosemary. Use olive pieces to assemble the black spiders on top of the eggs, while rosemary becomes the legs for the green spiders.
Banana ghosts
Terrify your taste buds! Banana ghosts are a cinch to make and horribly healthy to boot. Simply cut bananas in half, poke with Popsicle sticks and dip into melted white chocolate. Use raisins to make the eyes. When finished, pop your little ghouls in the freezer until it's time for a frightful surprise.
Pumpkin veggie tray
Arrange your veggies into a happy pumpkin to add a festive touch to your Halloween feast. We used baby carrots and tomatoes for this design but you could use any veggies you like. Provide a selection of yummy and healthy dipping sauces like ranch, hummus, black bean dip or tzatziki sauce for your little monsters to enjoy.
Monster apple mouths
These monster apple mouths (pictured, top) are wickedly good—and good for you too! Simple quarter your apple into 10-12 equal pieces. Slather peanut butter on each apple slice. Position whole peanuts between two apple slices as "teeth" for a monstrously fun treat.
Witches' brooms
Take a ride on a witch's broomstick when you conjure up a big batch of this healthy snack. Simply slice yellow bell peppers into thin strips about 2 inches in length. Use almond butter to stick the pepper strips to the end of a long pretzel stick to make the broom. A thin piece of fruit leather can be tied around the top of the peppers to secure them to the pretzel.
More Halloween fun
Spooky smartphone apps for Halloween
Tricks for a healthy Halloween
Best Halloween books for kids