Strategies To Avoid Extra Holiday Pounds
Posted on Oct 08, 2013 9:00 AM by Monica Beyer
It's that time of year again! Halloween is right around the corner and time just seems to speed up until we reach Thanksgiving and Christmas. What can you do to avoid packing on those stubborn holiday pounds as you stare at table after table full of delicious food?
---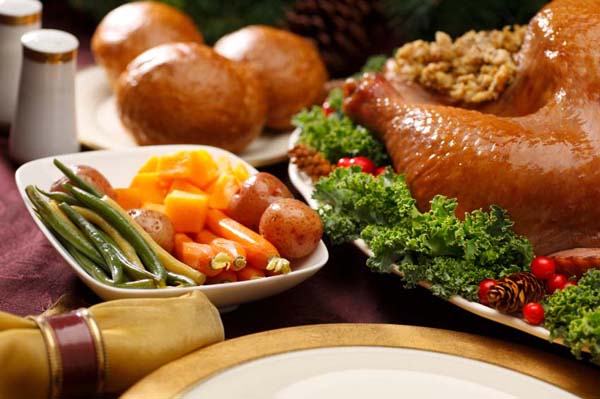 Holiday parties and family gatherings are what this special time of year means to many, and most of these festivities involve (and sometimes revolves around) tasty morsels. Tucking in to holiday meals is something many look forward to as Thanksgiving and Christmas rolls around, but doing this too many times can lead to pounds you didn't have before. Try these tips to maintain your weight during the holiday season.
Eat before a big meal
Instead of being tempted to skip breakfast and lunch before a late afternoon holiday dinner, eat a couple of snacks or a light meal before you go. Choose items that fill your stomach like fruits and vegetables and avoid foods that are highly processed. Eating at regular times will keep your metabolism going and will likely cause you to eat less at the big meal.
Eat slowly
It's so tempting to scarf your food, especially when it's absolutely delicious. If you pace yourself, however, your stomach will have time to inform your brain that you're getting full. If you don't, you can cram a lot more food in your tiny tummy and by the time the signals reach your brain, you're completely and uncomfortably stuffed. Eat slowly, enjoy the conversation and savor each bite.
Bring a healthy dish
One way to improve your chances of eating healthy food is to offer to bring some yourself. And don't worry — it doesn't have to be time consuming or expensive. Sliced fresh veggies paired with a low-calorie dip are always welcome. Guests will also love whole wheat pita wedges served with hummus or a fruit platter complete with low fat yogurt.
More on eating healthy
7 Simple ways to eat healthier
10 Tasty ways to eat more coconut oil
10 Foods that lift your mood