How To Avoid
The Candy Overload
Posted on Oct 22, 2013 8:30 AM by Monica Beyer
Handing out candy on Halloween is par for the course every October 31st. Trick-or-treaters come to your house and, to their delight, you dutifully dump handfuls of candy into their bag. These alternatives will keep your hands out of the candy dish while still being a good treat for the neighborhood kids.
---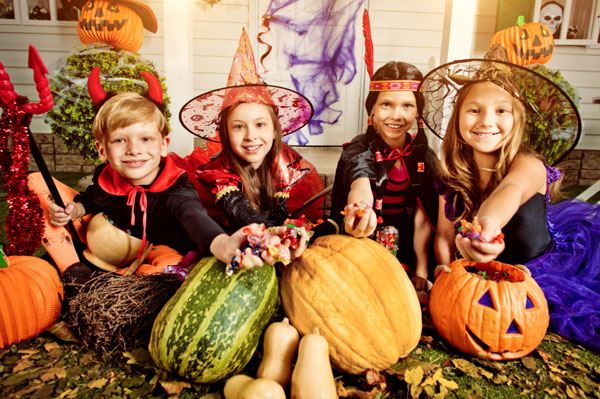 You know that you're not a huge fan of buckets of candy being in your house (so tempting to grab a mini candy bar or two throughout the day, right?), but if you don't give out good candy, your house may not be a popular spot for trick-or-treaters. However, you really don't have to give out candy to make your home the "cool one" on the block. Here's how to give alternative Halloween treats — in style.
Microwave popcorn
Okay, okay, microwave popcorn really isn't all that healthy considering the hydrogenated oils and questionable chemicals that line some of the bags they come in, but it can be a welcome sight for both kids and parents as they go through their stash at the end of the night. Many brands offer Halloween-specific smaller bags that are perfect for handouts, too, making shopping a snap. Even though you don't want to make microwave popcorn a daily habit, a little bit in moderation is okay, especially when you think about how much candy your little "monsters" will be devouring over the next few weeks.
Annie's Halloween Bunny Grahams
Annie's is a popular company specializing in healthier alternatives for traditional children's staples, such as macaroni and cheese and fruit snacks. They also have these super adorable Halloween Bunny Grahams (Amazon.com, $5). They are inexpensive and are made with organic wheat and no trans fat. Get an extra box or two for school lunches, too.
Goldfish Snack Packs
Every kid loves Goldfish snack crackers, and Pepperidge Farms has made it easy for moms and dads to hand out little snack-sized portions of their popular Goldfish crackers (Amazon.com, $6) on Halloween night.
Notepads and pencils
Grab several packages of Halloween-themed notepads and a bundle of pencils and hand out one of each to every goblin that approaches your door this October 31st. Notepads and pencils by themselves may be a little "meh," but giving them together will be way cooler. Keep a few for yourself to keep stashed in your bag for boring outings in the future and you have a win-win Halloween treat alternative!
More Halloween fun
Best Halloween books for kids
Throw a spooktacular Halloween party for kids
8 Ghoulishly good Halloween movies for kids