Mexican Bread
Of The Dead
Posted on Oct 11, 2013 9:00 AM by Naomi de la Torre
Día de los Muertos is right around the corner and it wouldn't be complete without a sweet, buttery loaf of pan de muerto. Learn how to make traditional Mexican "bread of the dead" in your own kitchen with this fun and easy recipe.
---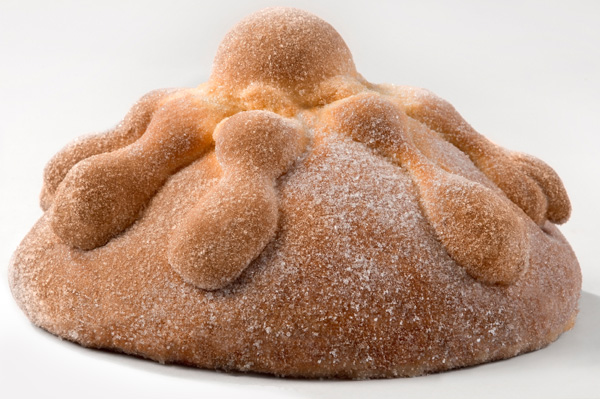 Ingredients
For the pan de muerto
1/2 cup lukewarm milk
1 package active dry yeast
1/4 cup melted butter
1/2 teaspoon salt
3 eggs
1 teaspoon orange zest
1 teaspoon anise seeds
1 teaspoon orange blossom water
1/3 cup granulated cane sugar
3 cups all-purpose flour
For the glaze
1/4 cup granulated cane sugar
1/4 cup orange juice
1 tablespoon orange zest
2 tablespoons sugar for dusting the bread
Directions
Pour 1/2 cup lukewarm milk and 1 package active dry yeast into your kitchen mixer. Allow the yeast to grow for approximately 10 minutes until the top of the milk is frothy with yeast.
Next up, mix in your melted butter (make sure it has cooled to room temp), salt, eggs, orange zest, anise seeds, orange blossom water and 1/3 cup granulated cane sugar. Gradually stir in the flour, 1 cup at a time, using your bread hook to knead the flour into the batter.
When all the flour has been incorporated into the dough, turn the dough out of the bowl onto a clean, floured countertop. Knead the dough by hand for 10 minutes until it is smooth and elastic.
Grease a large bowl (at least twice the size of the dough) with butter. Place the dough into the bowl and cover with a wet towel or a piece of plastic wrap. Allow the dough to rise for approximately 2 hours or until the dough has doubled in size.
Punch the dough down and turn it out of the bowl. Cut off a fourth of the dough and set aside. Shape the rest of the dough into a round loaf. Roll the reserved dough into 8 small "bones" and a small ball. Place the ball in the center of the loaf and arrange the "bones" in a circle to represent the circle of life. These decorations are what give the pan de muerto its bony shape after it has been baked.
Place the loaf on a large, greased baking sheet and allow it to rise for another hour. When the hour is almost up, preheat the oven to 375 degrees. Bake the bread for 30-40 minutes until it sounds hollow when tapped. You may need to cover the dough halfway through with aluminum foil so it doesn't brown too much.
While the pan de muerto is baking, prepare the glaze. Heat your orange juice, sugar and orange zest in a small pan over medium heat and boil for 5 minutes. When the bread is done, pour the glaze on top and sprinkle with 2 tablespoons of sugar. Enjoy!
More on Day of the Dead