Bite-Size
Lunchbox Recipes
Posted on Oct 14, 2013 9:00 AM by Naomi de la Torre
Looking for ways to entice your fickle eaters into trying new, healthy foods? Make lunchtime fun with these healthy bite-size snacks your kids will love to get their hands on.
---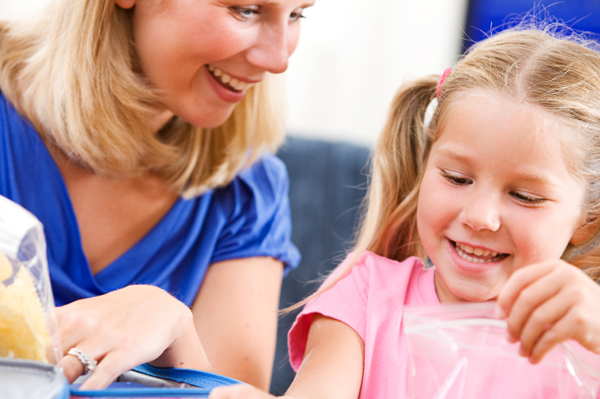 Deviled eggs
Packed with protein, the egg is the perfect portable snack. Crack up a healthy lunchbox treat with a batch of deviled eggs. Keep the recipe simple for the kids by adding just a small scoop of mayo, honey mustard, seasoning and a dash of paprika. Want to make your eggs extra fun? Instead of cutting them in half lengthwise, cut them 2/3 of the way from the top widthwise. Fill the whites with your deviled egg mix and place the caps back on. Peep peep! The eggs will look like cute, little chicks! Add eyes and noses with bits of olive, celery or carrots. Enjoy!
Cheese
Most kids are cuckoo for string cheese, but even it can get boring every day. Don't get strung up on string cheese! Try cubed cheese with crackers, cottage cheese with fruit or sliced cheese rolled with lunchmeat and secured with colorful toothpicks. Another fun idea is to use a cookie cutter to slice the cheese into fun shapes like flowers and let the kids assemble their own snack at lunchtime.
Veggie quesadillas
Perfect for little hands, quesadillas are an ideal lunchbox treat. Want to bump up the nutrition points? Switch to whole wheat or brown rice tortillas and load 'em up with yummy grilled veggies like colorful bell peppers, mushrooms, carrots, corn or even cauliflower. Add a side of dipping queso and lunch will be gone before you can say "Buen provecho!"
Nitrate-free beef jerky
All natural beef jerky tastes like junk food, but it's full of nothing but healthy goodness. Your kids will gobble it up in handfuls, especially if you offer a variety of yummy flavors like teriyaki, sweet and spicy, peppered or grilled barbecue. Just make sure to choose a brand that's MSG and nitrate-free.
Spring rolls
The perfect finger food, spring rolls can wrap up any number of healthy treats including tofu, chicken, fish and of course veggies! Have your kids help you roll them and they'll be geeked to try their own creations. Serve with a tasty dipping sauce like Thai peanut, sweet and sour or soy.
Fruit sandwich
Do your kids eat the meat out of their sandwich, but leave the bread on the side? Why not mix things up and make sandwiches out of yummy fruits they love? Apples make the perfect base for a fruit sandwich. Just core, slice width-wise and stuff. Need some ideas for fillings? Try peanut butter and banana, turkey and Swiss cheese, almond butter and raisins or use your imagination to create your own!
More on healthy eating
Healthy Halloween snacks for your little monsters
How to make a healthier pizza
6 Stay young foods