Spooktacular
Tombstone Treats
Posted on Oct 25, 2013 8:30 AM by Naomi de la Torre
Give your little monsters a spooky surprise with this wickedly awesome recipe for Halloween tombstone brownies.
---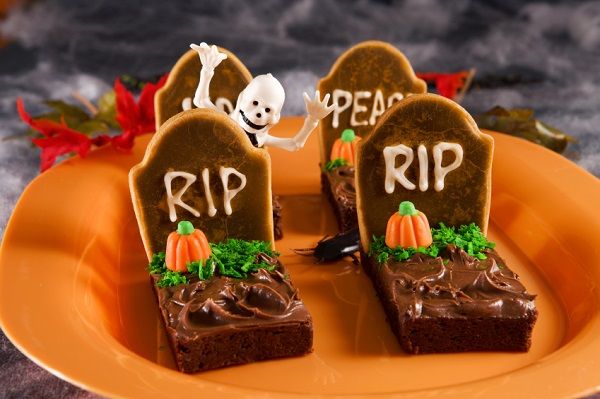 Ingredients
For the tombstone cookies
1 cup butter
3 ounces cream cheese
1 cup granulated sugar
1/4 teaspoon salt
1/4 teaspoon almond extract
1/2 teaspoon vanilla
1 egg yolk
2 cups all-purpose flour
Tombstone cookie cutter
For the brownies
1-1/4 cups margarine
2/3 cup cocoa
4 eggs
2 cups sugar
1-2/3 cups all-purpose flour
1 teaspoon vanilla
For the fudge frosting
6 tablespoons room temperature butter
1/3 cup unsweetened cocoa powder
1-1/2 cups powdered sugar
1 teaspoon vanilla extract
3 tablespoons cream
Dash of salt
Green coconut flakes
Pumpkin candies
Directions
Making tombstone brownies isn't hard, but it does require a few steps. (Rest assured, it is so worth it!) If you are in a rush, you can cut down on time by substituting refrigerated cookie dough, a brownie mix or store-bought chocolate frosting.
First up, let's get started with the tombstone cookies. In a medium size mixing bowl, whip together butter, cream cheese, sugar, salt, almond extract, vanilla and egg yolk. Beat on high until light and fluffy. Now, blend in your flour. After the dough is mixed well, shape it into three disks, wrap them in cellophane and place them in the fridge to chill for an hour.
While your cookie dough is chilling, prepare the brownies. Heat your margarine in a small saucepan, add the cocoa and stir well. Pour the margarine/cocoa mixture into your kitchen mixer and add your eggs, one at a time. Add sugar and vanilla and beat on high until light and fluffy. Next up is the flour. Beat just until combined. Pour the brownies into a 13x9 inch greased pan and bake at 350 for 30-35 minutes.
Wash out your kitchen mixer and dry it thoroughly. It's time to make the yummy fudge frosting. Place your room temperature butter into your mixer and beat on high until light and fluffy. While the butter is beating, sift your powdered sugar and cocoa together. Turn the mixer down to low and add the powdered sugar/cocoa mixture. Beat well. Add vanilla extract and cream, whipping the frosting until it is nice and fudgy. Add a dash of salt to taste.
Now the cookie batter should be ready. Roll out your disks to 1/8 inch thickness and use a tombstone cookie cutter to make the cookies. Place the cookies on an ungreased baking sheet and bake for 8-11 minutes at 350.
Allow the cookies and brownies to cool completely before assembling them. Frost the brownies and add some green coconut flakes to one end for grass. Use frosting to attach the tombstone cookie to the same end of the brownie where you placed the "grass." Add a small candy pumpkin or other decorations for a spooktacular Halloween surprise. Boo!
More Halloween fun
Healthy Halloween snacks for your little monsters
Frankenstein marshmallow pops
Best Halloween books for kids