Yes, It's A Real Product!
Posted on Nov 05, 2013 8:30 AM by Sarah Kovac
We didn't believe the commercial when we first saw it, but yes, it's a real product. And by the time we were done giggling at the ad, the product itself seemed pretty appealing! Watch for yourself, if you don't mind a little "bathroom humor."
---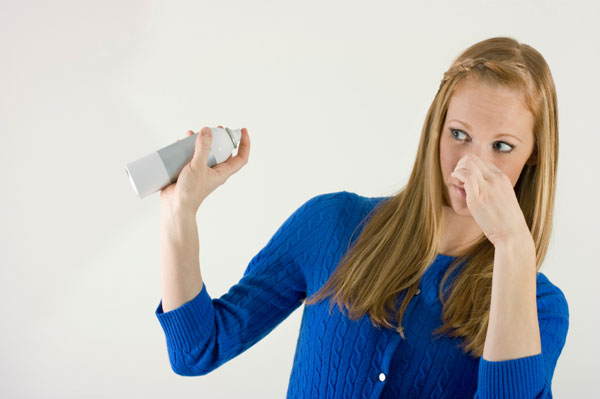 It's brilliant, really. We've all been there — you're at the office or the in-laws' or parent teacher conferences and you have to go. Most of us would rather avoid "number-two"ing in public places where others might be subject to any, well, lingering effects. Poo-Pourri has got your back(side)!
This hilarious commercial features a woman with a British accent sitting on a toilet in a formal gown discussing her bowel movements. The sheer variety of descriptions she uses is probably the funniest part. We couldn't help but picture a group of college guys gathered around a pizza at 3 a.m. trying to come up with new ways to say, "poop." Watch for yourself to see if you agree!
Video: Watch Poo-Pourri's hilarious commercial
This commercial is as goofy as it is convincing. In fact, we immediately looked up Poo-Pourri to shop their website. With its promise to "leave the toilet smelling better than you found it," it's something that most women would use.
Poo-Pourri boasts over 20 scents and over four million sold. It is not a chemical scent-mask. It is made up of essential oils, which you spray into the toilet before you, ahem, do your business. The spray creates a layer of smell-good oils on the surface of the water, and said "business" is trapped underneath, along with any unpleasant smell.
There are Poo-Pourri scents for men and women. The Original scent for women is "a fresh clean blend of bergamot, lemongrass and grapefruit," while the men's formula called "Royal Flush" is described as, "a fresh masculine blend of eucalyptus and spearmint."
If you're looking for something a little more festive to spritz at the opportune moment, you can try the scent, "Secret Santa," which promises to "help the naughty smell nice" with "a nostalgic warm blend of vanilla and cinnamon."
Poo-Pourri will run you $9.95 per 20 oz bottle, which they claim is 100 uses. That's enough to convince the world that your "business" really does smell like roses... Ten bucks is a small price to pay! Head on over to Poo-Pourri's website to order some for yourself (or perhaps as a gift).
More funny
Funny and endearing cat facts
Funny Facebook pages to follow
Top ten humor blogs