Dia De Los Muertos
Party Ideas
Posted on Oct 30, 2013 8:00 AM by Naomi de la Torre
Get your fiesta on with our wicked awesome list of Day of the Dead party ideas including food, drinks, crafts, party favors and more.
---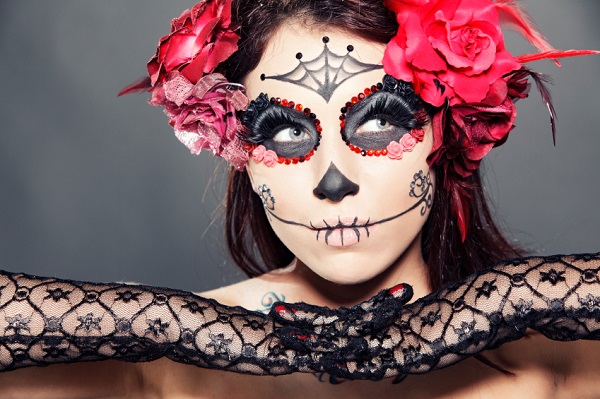 Día de los Muertos is a beautiful Mexican holiday honoring loved ones who have passed on. Unlike Halloween, which tends to focus on the morbid aspects of death, Day of the Dead is actually a celebration of life—eternal life, that is. It is believed that the souls of deceased ancestors return on November 1 and 2 to reunite with loved ones and enjoy the colorful and vibrant celebrations planned by their families. Day of the Dead celebrations have become more common in the United States in recent years as Latinos and non-Latinos alike enjoy the spirit of the holiday and the fun, festive traditions.
Sugar skull craft table
Sugar skulls are easy to make and even more fun to decorate! Simply mix together 1 cup sugar with 1-2 teaspoons of water until the sugar is moistened. Press the moistened sugar into skull molds (we love this fiesta mold from Amazon) and allow to dry overnight. During the party, set up a small craft table where guests can decorate the sugar skulls with edible icing and colorful candies. The best part? You can eat them as soon as you finish!
Paper flower decor
Add a blast of color to your party by decorating with gorgeous tissue paper flowers. You can use bright orange to mimic the marigolds used in traditional Day of the Dead celebrations or use your imagination and go wild with color. Try this simple paper flower tutorial for hours of crafting fun.
Burrito bar
There's nothing like a burrito bar to get a party going. Set up all the fixings—meat, beans, rice, cheese, sour cream, cilantro, jalapenos and salsa—and let your guests assemble their own dinner. Keep the tortillas warm by wrapping them in a slightly moist towel and leaving them in the crockpot on low.
Salsa lessons
Have you always wanted to learn to cha-cha? Hire a professional instructor to teach you and your guests how to wiggle those hips in style! If you really want to heat things up on the dance floor, hire a local salsa band to play all your favorite Latin jams all night long.
Face painting
Celebrate the cycle of life with fabulous Day of the Dead face painting. Set up a makeup table with all the goodies including face paint, brushes, glitter and even sticker gems and let the guests create their own designs. Need some inspiration? Take a peek at the amazing Day of the Dead skull makeup on Pinterest.
Aguas frescas
Cool off with a refreshing agua fresca after you take a spin on the dance floor. Make a selection of tasty aguas for your guests to choose from such as horchata, tamarind, watermelon, strawberry or hibiscus.
Bake your own pan de muerto
The best party favors are the ones you make yourself! Whip up a double batch of pan de muerto dough and have your guests make their own mini-breads to take home. Try this easy recipe for pan de muerto for a real crowd pleaser.
More Day of the Dead fun
Discover Day of the Dead
Traditional bread of the dead recipe
Kid-friendly Day of the Dead activities