Spine-Tingling
Halloween Treats
Posted on Oct 31, 2013 7:20 AM by Naomi de la Torre
Need a spooky treat for your Halloween party? Get all tied up with this adorable recipe for yummy mummy cake pops.
---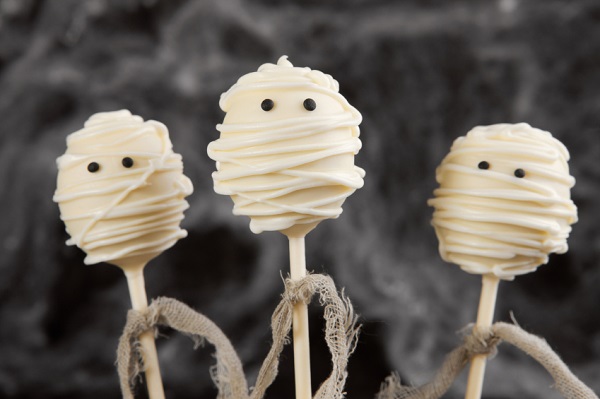 Ingredients
White cake mix
Eggs
Water
Vegetable oil
2 cans white frosting
White chocolate almond bark
Lollipop sticks
Parchment paper
Pastry bag
Sprinkles
Directions
First up, prepare your cake mix according to the instructions on the box. Allow the cake to cool completely before moving onto the next step.
In a large bowl, crumble the cake mix with your hands. (This is a great activity for little ghouls and goblins who love to get messy!) Next, spoon one entire can of frosting into your cake crumbles. Use your hands to mix the two together. The batter should be nice and sticky. Use your hands to shape it into 1-inch balls and place them on a baking sheet covered in parchment paper.
When you are finished making the cake balls, put the tray in the freezer for an hour to cool. This will make the cake balls much easier to work with while you are preparing the cake pops.
After your cake balls have chilled, melt white chocolate almond bark according to the directions on the package.
Now it's time to make the pops. Dip each lollipop stick 1/2 inch into the melted candy before pushing it into your cake pop. This will help to keep your cake balls securely attached to the lollipop sticks.
After you insert your lollipop stick into the cake ball, dip the entire pop into the candy coating. Return to the parchment covered baking tray with the stick pointing into the air. Continue until you have finished all the cake pops.
Once they have cooled and hardened, you can add the mummy lines and eyes. Scoop a portion of the second can of white icing into a pastry bag with a single hole tip. Use the pastry bag to draw zigzag lines all over the mummy. Don't forget to leave a space for the mummies' eyes! Use small sprinkles or any color of dark icing to make the eyes.

Your yummy mummies are complete! Give them a few minutes to chill in the fridge before serving. Happy Halloween!
More Halloween fun
5 Halloween treat candy alternatives
8 Ghoulishly good Halloween movies for kids
Throw a spooktacular Halloween party for kids