Homemade Pumpkin
Soup Recipe
Posted on Nov 06, 2013 8:30 AM by Naomi de la Torre
Spice up your holidays with this amazing recipe for homemade pumpkin soup. Seasoned with sage, nutmeg and fresh maple syrup, this soup is sure to hit a home run with your entire family.
---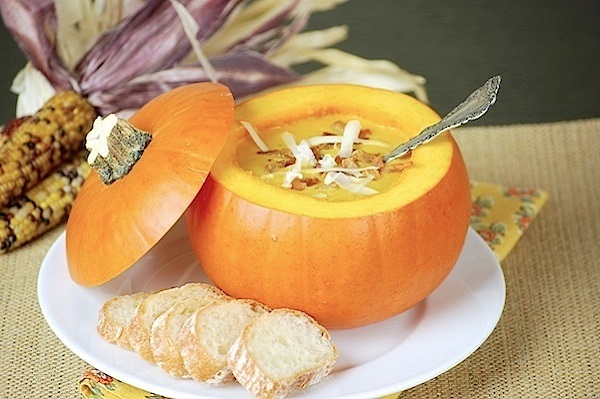 Ingredients
2 tablespoons butter
1 small onion, diced
2 Granny Smith apples, peeled and diced
1 large carrot, diced
1 whole pie pumpkin
1 teaspoon salt
3 cups chicken stock
1 teaspoon fresh ground pepper
1 teaspoon ground sage
1/4 teaspoon ground nutmeg
2-3 tablespoons maple syrup
1 cup heavy cream
4 slices cooked bacon
Pumpkin seeds
Extra pumpkins to use as bowls
Directions
You can make pumpkin soup with canned pumpkin, but fresh is so amazing it's totally worth the extra effort! Start by cutting your pie pumpkin in half and scooping out the seeds. Place the pumpkin on a baking sheet and pop it in the oven at 350 for about an hour until the insides are nice and soft.
While your pumpkin is baking, you can get going with the other tasty ingredients. Sauté your onion, carrot and apples in 2 tablespoons of butter in a frying pan until tender. This should take about 10 minutes. When they are nice and soft, put them in the blender with a ½ cup of chicken stock to make a thick puree.
When the pumpkin is done, scoop out all the delicious pulp. Place the pulp into the blender with a cup of chicken stock and blend it until it is nice and smooth.
Grab a large soup pot. Place both the purees into the pot and add the rest of the chicken stock and spices. Cook on medium until the soup is nice and warm. Add maple syrup to taste and a cup of heavy cream. (Holy yum!)
While the soup is warming, you can hollow out small pumpkins to use as decorative bowls. Serve the soup with a sprinkling of bacon crumbles, roasted pumpkin seeds or a drizzle of fresh cream. Happy holidays!
More fall recipes
Autumn leaf sugar cookies
10 Tasty things to do with leftover pumpkin puree
Homemade sweet potato rolls