Family-Friendly
Fall Activities
Posted on Nov 08, 2013 9:00 AM by Naomi de la Torre
The days are getting shorter, the leaves turning colors and a delicious crispness fills the air. Get outdoors and enjoy all the excitement autumn has to offer with these fabulous ideas for fall family fun.
---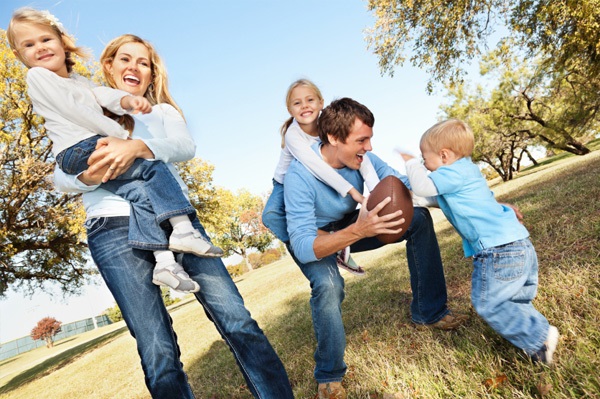 Apple picking
Breathtaking views, perfect climbing trees, wide-open spaces for kids to run and play—nothing says fall like a day at the apple orchard. Bundle up the kids and head out for a picking bonanza. Aside from mouthwatering fruit you can grab with your hands, some orchards now include wineries, petting zoos, picnic areas, hay rides and a delicious assortment of baked goods to tempt your taste buds. Whether you love Honeycrisp, Jonagold, Fuji or a more rare variety, check out this list of America's best apple picking farms for an orchard near you.
Hot air balloon ride
Surge into the sunrise in a technicolor dream. If you've never ridden in a hot air balloon, get ready for the ride of your life. Everyone in the family will love sailing over familiar skies, but from a whole new angle! See the world from above and stretch your dreams beyond the horizon. If you have little children in your family, make sure to check whether there is an age limit when you make your reservation, as it varies from business to business. Too afraid to fly? Why not check out a hot air balloon festival instead? There's nothing like watching hundreds of colorful balloons sail into the magnificent morning sky. Take a peek at the Hot Air Balloonist for a comprehensive list of national balloon festivals.
Fall camping
Pitch your tent among towering trees and spectacular views as the fall foliage changes color before your eyes. Fall is the perfect time for a family camping excursion. It's not too hot and it's not too cold to do all your favorite outdoor activities like mountain biking, hiking, kayaking, and fishing. Chillier temps will chase away the bugs and the rates are usually cheaper too. Just make sure to bring along plenty of warm clothes and cozy blankets as you snuggle up for a night under the stars.
High school football
Got a sporty crew on your hands? If major league football breaks your budget, why not hit up some of the high school games in your community? You can enjoy all the excitement of the sport you love—the marching band, game-day snacks, cheerleaders and even halftime fun—without draining your piggy bank. Got little tykes in your crew? Make sure to pack a bag with water bottles, toddler-friendly snacks, an umbrella and a blanket to keep cozy when the sun goes down.
Drive-in movie
Take a trip back in time when you hit up the drive-in movie theater. As the days get shorter, the movies start earlier so you don't have to stay up til midnight to watch your favorite flicks. Put the kids in their pjs, pack a few snacks and a thermos of cocoa and curl up together in front of the big screen for a night of big family fun.
More family fun
10 Fun ideas for a family staycation
Top family movies of 2013 
5 Fun ways to exercise together as a family