Posted on Nov 11, 2013 8:30 AM by Naomi de la Torre
Are you head over heels for pumpkin? Get more of that pumpkin magic with our amazing recipe for roasted pumpkin and spinach salad, topped with maple syrup vinaigrette, dried cherries and walnuts. Swoon!
---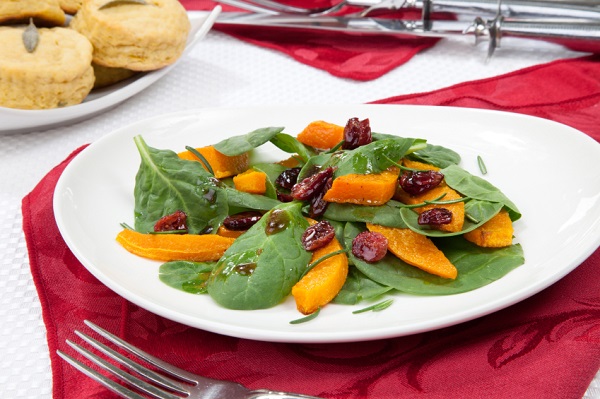 If you are like us, you can't find enough ways to eat your weight in pumpkin all season long. Satisfy your unstoppable pumpkin cravings with our mouthwatering recipe for roasted pumpkin and spinach salad.
When cooking or baking with fresh pumpkin, make sure to look for the smaller "sugar" or "pie pumpkins." These delightful little guys are usually just 6-8 inches wide, but bursting with flavor. Unlike larger carving pumpkins which tend to have stringy flesh, sugar pumpkins are soft and firm—perfect for all your favorite recipes.
Ingredients
1 small sugar pumpkin, peeled, seeded and cut into wedges
2 tablespoons olive oil
12 ounces baby spinach
1/2 cup dried cherries
1/2 cup walnuts
1/4 cup maple syrup at room temp
1-1/2 tablespoons cider vinegar
1/4 cup olive oil
Kosher salt
Fresh ground black pepper
Directions
Start by peeling and seeding your sugar pumpkin. Think of it just like an acorn squash. You'll want to cut off the top and then use a sharp knife or vegetable peeler to take off the outer layer. Once you've removed all the outer rind, you can cut it into wedges and remove the seeds.
Preheat your oven to 400 degrees. Place your pumpkin wedges in a bowl and coat them with 2 tablespoons of olive oil. Season with salt and pepper. Gently arrange the wedges on a parchment lined baking sheet and bake for 30-35 minutes until tender.
Next up, make your dressing. Pour maple syrup, cider vinegar and olive oil into blender and whip on high until combined. Add salt and pepper to taste.
When the pumpkin is finished roasting, allow it to cool for 30 minutes before assembling the salad. In a large bowl, toss together spinach leaves, pumpkin wedges, dried cherries and walnuts. Drizzle with maple syrup dressing and serve immediately with your favorite fresh, crusty bread.
More fall recipes