Quick And Easy
Family Favorites
Posted on Nov 19, 2013 8:30 AM by Sarah Kovac
'Tis the season to frantically thumb through cookbooks and comb the internet for THE perfect potluck recipe. We've got some quick, easy and tasty favorites sure to please the crowd.
---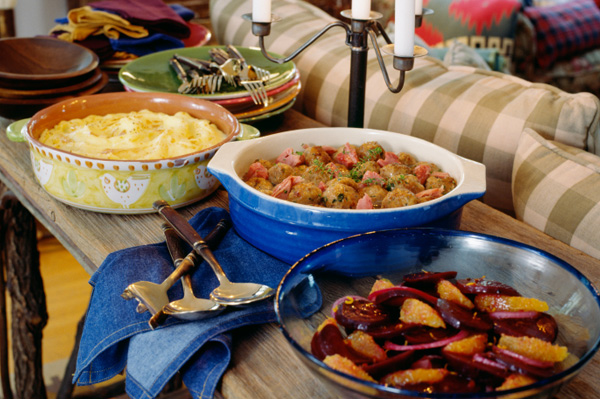 There's nothing more satisfying than to watch your casserole or pie get gobbled up at family gatherings, but not everyone has time to make an elaborate dish. Don't worry! If you're running short on time or ingredients this holiday season, we've got a few crowd-sized recipes that assemble quickly and don't require 80 ingredients.
You can't go wrong with dessert. An easy dessert? Well, that's a no-brainer! With only seven ingredients and minimal effort, these Seven Layer Bars will be an annual event.
Yield: 3 Dozen
Ingredients:
1/2 cup unsalted butter
1 1/2 cups graham cracker crumbs
1 cup semi-sweet chocolate chips
1 cup butterscotch chips
1 cup chopped walnuts
1 (14 ounce) can sweetened condensed milk
1 1/3 cups shredded coconut
Directions:
Preheat oven to 350 degrees F (180 degrees C).
Place butter in 13 x 9 inch pan and melt in oven. Swirl to coat bottom and sides with butter.
Spread graham cracker crumbs evenly over bottom of pan. Layer chocolate chips, butterscotch chips, and nuts over crumbs. Pour condensed milk over nuts. Sprinkle coconut over condensed milk.
Bake until edges are golden brown, about 25 minutes. Let cool before cutting into bars.
No potluck is complete without a tasty guacamole. Turn up the heat by using spicy picante, or keep it kid-friendly with mild. Either way, yum!
Yield 1 1/2 Cups
Ingredients:
2 ripe avocados, pitted and peeled
1 tablespoon lime juice
2 tablespoons picante sauce
1/4 teaspoon garlic powder
1/4 teaspoon salt
Directions:
Combine all ingredients in a large bowl. Use a fork or potato masher to blend well.
Serve immediately.
No food list is complete without bacon. These Bacon-Wrapped Jalapeno Poppers combine the natural sweetness of bacon with the spice of the jalapeno. It's a fiesta for your taste buds!
Yield: 50 Poppers
Ingredients:
25 fresh jalapeno peppers
14 -16 ounces cream cheese
2 cups shredded cheddar cheese
2 (16 ounce) packages bacon
Directions:
Cut stems off of peppers and cut them all in half longways.
Remove seeds from peppers.
Fill each pepper with cream cheese and sprinkle cheddar cheese on top.
Wrap 1/2 slice of bacon around each pepper half.
Place on baking sheets and place in 450 degree oven for 10 to 15 minutes or until bacon is fully cooked.
Remove and serve when cooled.
Enjoy!
More recipes