Pumpkin Turkey
Centerpiece
Posted on Nov 20, 2013 8:30 AM by Naomi de la Torre
Turn a mini-pumpkin into the cutest Thanksgiving centerpiece around. Follow these simple steps to make an adorable pumpkin turkey craft for your holiday table.
---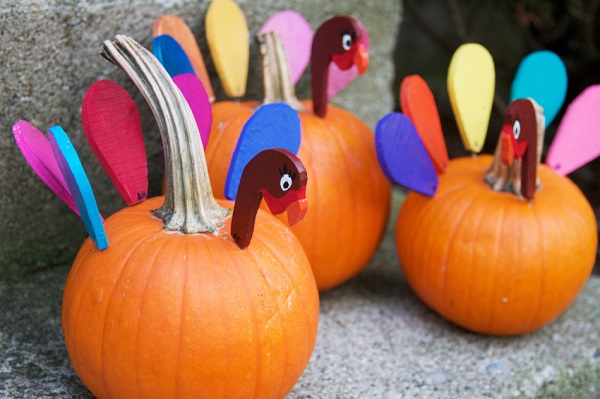 Gather up the kiddos on Thanksgiving for an awesome Turkey Day craft. This craft is simple enough for even the tiniest tots, but it creates a beautiful centerpiece that's totally table-worthy. Ready to get started?
Supplies
Mini pumpkins
Peel and stick foam craft sheets
Mod Podge
Paint
Wooden craft sticks with pointed ends
Googly eyes
Directions
Begin by using the turkey template (below) to cut out turkey face shapes and feathers with your foam craft sheets. You will need to cut out 2 turkey faces and and 2 foam feathers for each.
The turkey faces can be made of brown foam, while the feathers look best with a wide variety of bright colors.
Face the sticky sides toward the middle and place a wooden stick in between each set to make them double-sided.
Next up, it's time to get your turkey on! If you want to keep things simple, don't worry about painting the turkey faces. Simply attach one googly eye on each side and cut out a small wattle with red foam and a yellow beak to attach to the turkey head.
If you have older kids who would like to paint their turkey faces, first apply a coat of Mod Podge to each side of the turkey face. After the Mod Podge is dry (about an hour), the kiddos can design their own turkey faces with paint. Allow each side to dry before flipping it over to paint the other.
All finished? Poke the craft sticks into the pumpkin and voila! Your pumpkin turkey centerpieces are complete. Gobble gobble!
Turkey template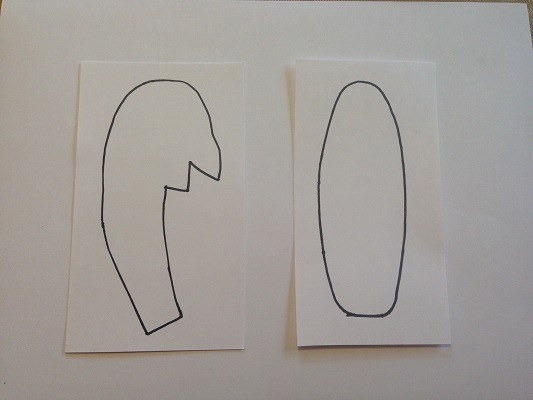 More Thanksgiving fun
Easy potluck recipes
Turkey trivia! 7 Fun facts about turkeys
How to make a pinecone turkey