A Grateful Heart Is A Happy Heart
Posted on Nov 26, 2013 8:30 AM by Sarah Kovac
The holidays are upon us and there's never been a better time to slow down and count your blessings. Here are a few creative ways to express your gratitude this year.
---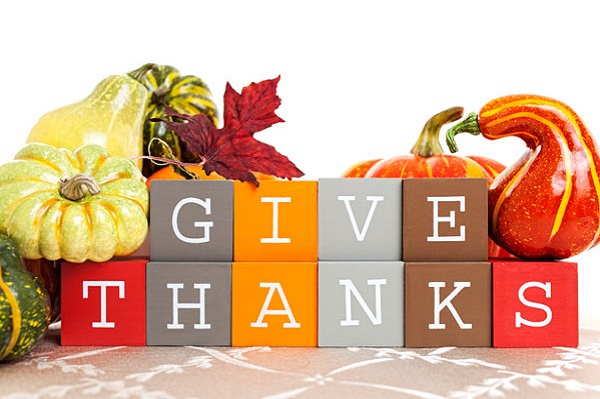 Social media is always abuzz in the month of November with people declaring their #dailythanks. It's a wonderful tradition that reminds us all just how good we've got it, but hashtags and status updates aren't the only ways to give thanks. We've rounded up a few creative ways for you to truly immerse yourself in the art of giving thanks this year.
Read
Do you have a journal? Even if you don't have a physical journal, you likely have a virtual one! It's called your Facebook Timeline. Click your name at the top of Facebook and then click "Activity Log," which is a button on the lower right corner of your cover photo. Jump back in time to see what you were doing a year ago, or even further back. Note the difficulties you faced at the time, and be glad for the ones that have faded away.
Write
It's never too late to send a thank-you note. Think of a time this year when someone went out of their way to help you or make you feel better. Go buy some stationery with that person in mind, and write your note. It doesn't need to be lengthy — a line or two is enough to let the recipient know that their good deed meant something to you. Drop it in the mail. Isn't it always exciting to receive a real, hand-written letter?
Talk
Take a moment to express your gratitude, out loud, and in front of your children. Tell your mail carrier you're grateful for the work they do, which is often so thankless! Thank the cashier at the store. Thank your spouse for all that they do. If you travel, thank airport security for their hard work. People all around you are doing jobs that make your life easier and safer. Let them know their hard work is appreciated.
Give
Nothing stirs up gratitude like helping those less fortunate. Make the time to help someone else out. Pay forward a kindness someone has given you. Donate food or time to your local food pantry. Give financially to the Red Cross or your favorite charitable organization. Go to the store and have your children help you pick out toys to buy for children at the local orphanage. Get outside your own life for a day, and you'll be much more thankful for all you have.
Note
There will be many things to be thankful for in the coming year. Create a gratitude jar to keep track of them. Get a large mason jar, and cut a slot out of the lid. Every time something good happens between now and next Thanksgiving, write it down and put the paper into the jar. All year, you'll get the joy of watching your gratitudes accumulate, and this time next year you can open the jar and reminisce about all the good you've experienced.
More on gratitude
5 Thanksgiving traditions to start with your family
The link between happiness and health
Simple things to be thankful for