Juice Cleansing
For Beginners
Posted on Dec 02, 2013 8:30 AM by Naomi de la Torre
New to juice fasting? Get the down and dirty on juice cleanses and learn how juicing can unleash the natural self-healing powers of your body.
---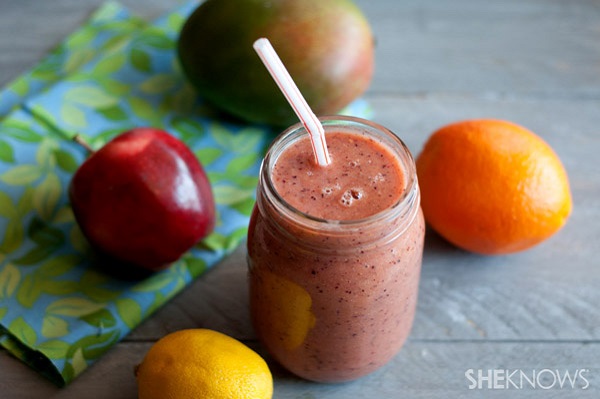 Juice, juice and nothing but the juice
Juice cleanses are all the rage right now. You can hardly open a magazine without being assaulted with glowing celebrities singing the praises of their latest juice cleanse — but are juice cleanses really all that? What does it feel like to drink nothing but juice for 3 or more days? And most importantly, will I get so hungry during a cleanse that I inadvertently chew my own arm off?
Juice cleanse benefits
The benefits of juice cleansing are phenomenal. You can't argue with the fact that fresh, raw juice is a potent healer. In our fast paced society, we rely heavily on processed foods which cause our bodies to become highly acidic and out of balance. Luckily, we don't have to look far to find all-natural ingredients that can promote health and healing. Raw fruits and veggies have all the vitamins, minerals, natural sugars, antioxidants, salts, enzymes and electrolytes that our bodies need to re-alkalinize and rebuild.
The powerful nutrients in fresh juice actually jumpstarts healing at the cellular level. Whether you are trying to wean yourself off junk food or simply get a detoxifying boost, a juice cleanse is a great way to slow down and help your body focus on the process of healing. You can expect benefits including increased energy, better mental clarity, strengthened immune system, weight loss, reduced toxicity, digestive healing and more.
Getting started with juicing
There's no reason why you can't create your own juice cleanse at home with the aid of a good juicer. If you are new to juicing, spend some time reading up on good juice recipes online before you just starting throwing everything in your crisper into the juicer. A good rule of thumb for creating a healthy and drinkable combo is to use the ratio 2/3 veggies to 1/3 fruits. As you become accustomed to the flavors of fresh vegetable juice, you can up the ratio of veggies to fruits, or even eliminate fruits entirely.
Juice fast drawbacks
While going on a juice cleanse has enormous health benefits, it isn't right for everyone. If you have issues with blood sugar, consuming only juice may leave you feeling depleted and not very functional. Even very healthy people can feel intensely hungry during a juice cleanse and succumb to serious mood swings. If you are considering a juice cleanse, it is best to prepare your body ahead of time by eliminating processed foods and junk foods of all kinds, along with caffeine and alcohol. By the time you actually start the fast, you won't be suffering from caffeine withdrawal or other side effects of sudden diet change.
Juice cleanse delivery options
If you are ready to become a juice monster, but you don't want to go through the hassle of daily juicing (and clean-up!), you might consider some of the new juice cleanse companies that will deliver juice direct to your doorstep. One of our favorites is BluePrint, which offers three amazing programs for your specific juice cleanse needs. If you are a beginner, you might try the Revovation cleanse, which has more fruits incorporated into the juices and can help you gently ease into detoxification. Think you are ready for more? Try the Excavation level which is "designed to flood your body with chlorophyll, restore your alkaline balance, and seriously rest your insides so they can finally unearth those crayons you ate when you were three." Boom pow! Now that's some serious juice.
More on health and wellnes
What is foot zoning?
Stock your homeopathic medicine cabinet
Natural cold and flu prevention tips