Candied Carrot
Perfection
Posted on Nov 22, 2013 9:00 AM by Naomi de la Torre
Looking for a standout side dish for your Thanksgiving menu? Try this amazing recipe for carmelized carrots with dill, guaranteed to tantalize your tastebuds and rock your world.
---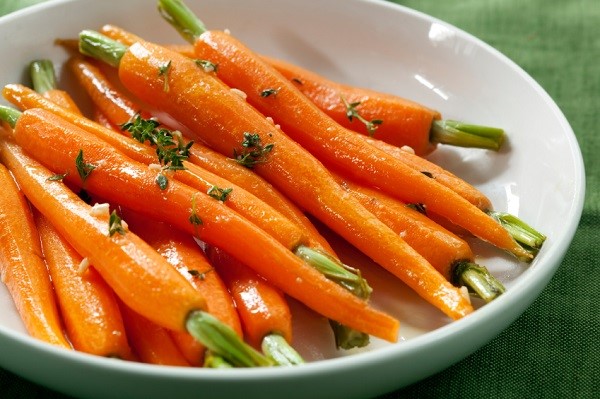 Sweet yet savory, there's nothing like carmelized carrots to add some sass to your Thanksgiving table. This recipe is easy to make, yet full of sensational flavor. Want to bump things up a notch? Add some feta cheese and toasted slivered almonds just before serving.
Ingredients
1 bunch carrots
Handful fresh dill
1 tablespoon butter
1 teaspoon olive oil
1/2 white onion
2 cloves garlic
1/2 cup chicken both
2 tablespoons brown sugar
Sea salt and fresh ground pepper to taste
Directions
Wash and dry your carrots and remove the leaves. Don't cut off the stems completely, leave an inch of green on top of each carrot for color. Peel the carrots and set them aside.
Onions and garlic are up next. Mince your garlic cloves and chop your onion finely.
Heat your butter and olive oil in a medium pan. Add the onions and cook for 5-6 minutes over medium heat until they become translucent before adding in the garlic. Toss in the garlic and cook for another minute before adding in the carrots.
Stir in the carrots and mix well with the onions and garlic. Now's the time to add in your chicken broth and brown sugar. Pour it in and stir well, getting all the onions and garlic off the bottom of the pan. Let the broth cook down until it has evaporated (approximately 15 minutes).
The carrots should now have a sticky, sweet glaze on them that is bursting with flavor. Toss in your handful of fresh dill and distribute well. Salt and pepper your carrots to taste. Booyah! Candied carrot perfection.
More on Thanksgiving
Makeover your Thanksgiving leftovers
How to make a pumpkin roll cake
Best gluten-free Thanksgiving recipes