Gobble Up These
Side Dish Recipes
Posted on Nov 26, 2013 8:00 AM by Naomi de la Torre
Looking for the perfect Thanksgiving menu? Gobble up these recipes for Thanksgiving side dishes including all your classic family faves like mashed potatoes, green beans, cranberries and cornbread, but also with some creative new ideas that are sure to be crowd-pleasers.
---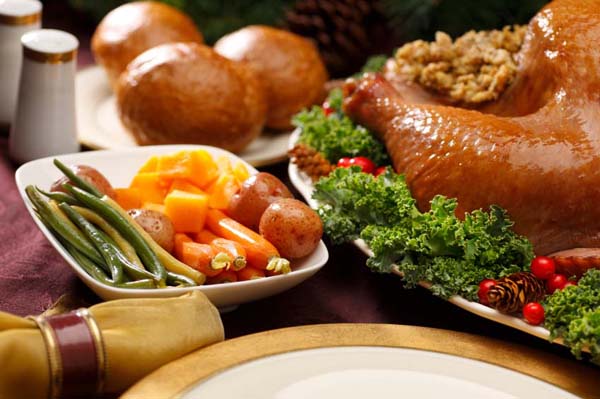 Sweet yet savory, there's nothing like carmelized carrots to add some sass to your Thanksgiving table. These tempting root veggies pack a punch when you simmer them in chicken stock and brown sugar. (Hey, stop drooling!) Add a sprinkling of dill and you can't help but fall in love. Forever.
Ditch the canned green bean casserole and move into the new millennium with this tantalizing recipe for fabulous green beans. Fresh green beans are frightfully fab when you dress them up with walnuts, olive oil and feta.
Freshen up your Turkey Day table with a mouthwatering pumpkin and spinach salad. This recipe is a cinch to make and boasts all the holiday flavors you love.
Thanksgiving just isn't complete without sweet potatoes. But instead of drowning them in butter and marshmallows, how about adding them to your dinner rolls? They add an amazingly rich flavor and a beautiful orange color your guests are sure to love!
Tired of boring old cranberry jelly? Add a zesty zing to your table with this tantalizing recipe for jalapeno cranberry relish. We spiced up this baby with orange juice, brown sugar and just enough jalapeno to make you run for the border. Ole!
Add a little boom-pow to your Thanksgiving menu with this selection of savory baked apple recipes. Stuffed to the brim with tempting ingredients like pecans, cranberries, quinoa, spinach, sausage and bacon, you can't go wrong with this mouthwatering side dish.
Get back to the basics with this unbelievably creamy recipe for mashed potatoes. Nothing but butter, cream and kosher salt in these babies and they sure are good!
Add a splash of color to your table with this finger-licking good recipe for fried heirloom potatoes. Purple, blue, red, orange... your family won't be able to get enough of this rainbow colored delicacy.
Got some gluten-free guests in your crowd? This recipe for gluten-free cornbread is so outrageously delish, you'd never know the difference.
The ultimate comfort food, mac n' cheese has weaseled its way into the hearts of millions. But add bacon and butternut squash and kapow! This family classic is on fire.
More on Thanksgiving
Turkey trivia! 7 Fun facts about turkeys
How to make a pinecone turkey
Makeover your Thanksgiving leftovers