Posted on Dec 10, 2013 8:00 AM by Sarah Kovac
You never know who might pop in over the holidays. Is your house ready for unexpected guests? Don't worry, we'll help you pick up quick!
---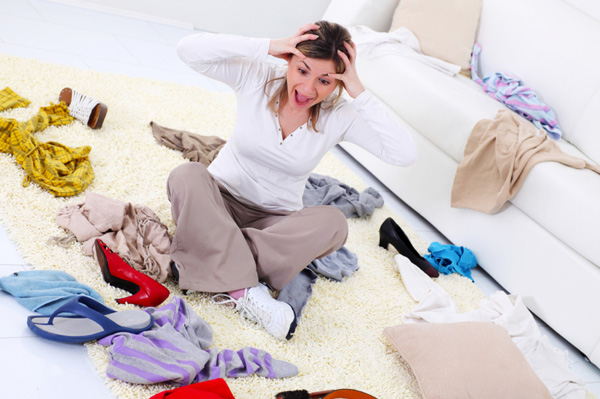 It's the phone call every messy person dreads: "We'll be at your house in five minutes!" Some of you might be ready for company at a moment's notice, but the rest of us are instantly sent into a panic. If you fall into the latter group, we've got some tips to help you make your home presentable fast. So harness that panic-induced adrenaline surge and roll up your sleeves for Speed Cleaning 101.
Trash
Sprint through your house with a bag to collect any trash lying around. Don't do anything but pick up trash! This shouldn't take you more than a few minutes. Then empty your main trash can (the one your guests will have access to). Wipe any crumbs off the table or counter and into your bag as you pass.
Return lost things
Think of where your guests might go and focus on those rooms. The living, dining and bathrooms should probably do it. Take five minutes in each room to clear clutter off surfaces. If something belongs upstairs, don't waste time returning it yet. Just set it on the stairs to grab on your next trip up. Stay completely focused on each room for five minutes and you'll be surprised what you can accomplish. If you've got laundry, pile it into a basket and put it in a bedroom. Remember, this is not about actual cleanliness, it's about appearances. What your guests don't know won't hurt them (or you!).
Floors
Grab your vacuum and again, sprint through heavily trafficked areas. Do not move chairs. Do not get under the couch. Just go over the open spaces where the most dirt gathers. If your kitchen is a hard floor, you're not going to take the time to mop, just let the vacuum pick up any dirt on the floor.
Atmosphere
Light a candle, put some potpourri on the stove, or pour a little vanilla in a dish and stick it in the oven. Fill your home with a calming scent, and take a moment to relax, if you can. You'll appear as put-together as your house now does. Your speed-cleaning will be our little secret.
More on entertaining
5 Ways to wow your holiday party guests
Host an ugly Christmas sweater party
Last minute holiday gift ideas