Family Christmas
Traditions We Love
Posted on Dec 09, 2013 8:00 AM by Naomi de la Torre
Christmas Eve is a night filled with wonder, anticipation, gratitude and loads of family fun. Looking for some fresh ideas for Christmas Eve traditions to try with your family? We've got you covered.
---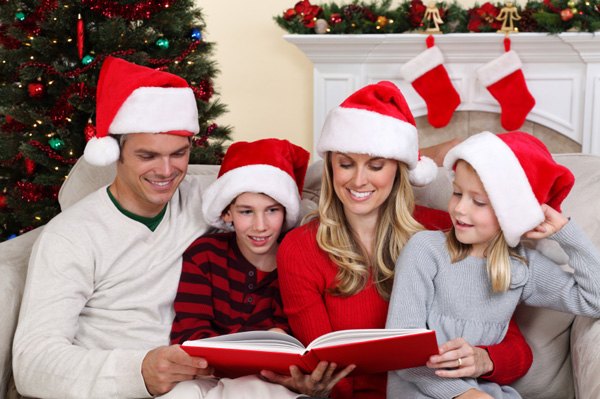 Traditions are so special because they promote togetherness. Traditions don't have to be expensive or elaborate to be meaningful. Something as simple as staying up late and telling family stories on Christmas Eve can be a powerful tradition that your children will pass down for generations. Try some of the ideas below or create your own traditions to celebrate another year of blessings with all the people you love.
Make reindeer food
Santa gets cookies and milk, but what about the reindeer? Our hardworking hoofed friends need love too! Make a tradition of making reindeer food on Christmas Eve that the kids can leave on the lawn to guide Santa to your house. Some reindeer food recipes include glitter because it sparkles in the night, but if you don't want your lawn covered in glitter, try our classic recipe here:
Ingredients
1 cup oatmeal
5 tablespoons colorful sprinkles
½ cup carrot shavings
Directions
Scoop all the ingredients into a Mason jar. Put on the lid and have the kiddos shake it up. When the moon is out, have the kids run outside and sprinkle the food around the yard for a whole lot of Christmas Eve fun!
Celebrate Noche Buena
Have you ever wondered how Christmas is celebrated in other countries? This year, try incorporating a tradition from your Latin American friends. In most of Latin America, Christmas is celebrated on Christmas Eve. Families get together to cook traditional foods like menudo, pozole, tamales, homemade tortillas and Mexican hot chocolate while enjoying each other's company. Everyone attends evening mass together and gifts are opened at the stroke of midnight.
Lend a helping hand
Get into the true spirit of Christmas by lending a helping hand on Christmas Eve. Depending on the age of your children, there are lots of wonderful ways that you can volunteer as a family. You might visit a children's hospital and do a craft with the kids, serve food at a soup kitchen, or make a special Christmas Eve meal for a family who is struggling with financial or medical issues. It's never too early to teach our children about the value of service to mankind and putting others before ourselves.
Holiday pajama party
For kids, there's nothing more exciting than getting to stay up late. Start a tradition of a Christmas Eve pajama party where everyone in the family stays up together until midnight. Whether you spend your time telling family stories, baking cookies or simply watching favorite Christmas flicks, the tradition of spending time together is what counts most of all.
Christmas caroling
Spread some of that holiday cheer by bundling up for a night of Christmas caroling fun. Most families are home on Christmas Eve, so it's the perfect time to make a surprise holiday visit. Who wouldn't love to open their door on Christmas Eve to a group of happy carolers? Make sure to bundle up tight, it's cold out there! If you have one handy, bring along a wagon for your supplies including song sheets, mugs of cocoa and cookies to share with your new friends.
Movie marathon
For movie lovers, there's no better time than Christmas to take in a marathon of your holiday faves. Let everyone in the family pick their favorite flick, string some tasty garlands of popcorn, heat up some mugs of peppermint cocoa and snuggle in for an all-night Christmas mega-marathon.
More Christmas fun
Awesome stocking stuffers for tween girls
Our best Christmas cookie recipes
The funniest Christmas movies ever