Best Homemade
Chocolate Popcorn
Posted on Dec 11, 2013 7:30 AM by Naomi de la Torre
Homemade chocolate popcorn is a snack worth dying for. Wait, did we just say that out loud? Just in time for Christmas, we're going to let you in on a little secret—our classic chocolate drizzled popcorn recipe. You're welcome.
---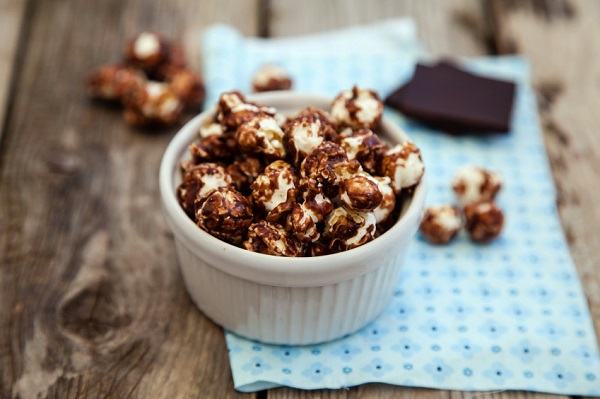 Ever wonder why the popcorn you buy from fancy gourmet shops is so big, round and puffy, while the popcorn you make at home has a more irregular shape? The difference is in the type of popcorn kernel used. When using coatings of any kind—chocolate, caramel, cheese, toffee, peppermint or even southwest jalapeño—the best kind of kernel to use is mushroom. Mushroom popcorn kernels are the largest and fluffiest you'll ever find, and once popped they become so sturdy, they're absolutely perfect for handling all your favorite toppings.
Not sure where to buy mushroom popcorn kernels? You can get them by the pound from Just Poppin, along with other popcorn kernel varieties as well.
Ingredients
1/2 cup mushroom popcorn kernels
1/4 cup coconut oil
1/3 teaspoon salt
2/3 cup sugar
1/4 cup light corn syrup
1/2 stick butter
3 tablespoons cocoa
1 teaspoon vanilla
1/4 teaspoon salt
2 cups chopped macadamia nuts
Directions
In a large, deep cooking pot, heat your coconut oil and 1/3 teaspoon salt over high heat. The oil needs to be very hot to pop the popcorn kernels. Once you think the oil is hot enough, test a single kernel to see if it pops. When it does, you can pour the rest of the kernels in.
Once the kernels are inside the pot, use a large wooden spoon to stir them until they are all coated in oil. Cover the pot with the lid and let the kernels pop for about 3-4 minutes until they are all finished. (You will notice the popping sounds slowing down considerably.) Remove the pan immediately from the heat to avoid burning the popcorn.
Next up, your luscious chocolate coating. Pour your sugar, corn syrup, butter, cocoa, vanilla and remaining salt into a medium saucepan and bring it to medium heat. Use a wire whisk to stir the ingredients as they come to a slow boil. Boil for 2-3 minutes while stirring continually to prevent burning.
Line a couple of baking sheets with parchment paper. Spread the popcorn out on the sheets and drizzle with your homemade chocolate coating. Toss in the macadamia nuts and distribute evenly.
Boom! Chocolate covered popcorn heaven.
More holiday recipes
Homemade eggnog latte
Our best Christmas cookie recipes
Holiday cocktail recipes your guests will love