Holiday Diet
Survival Tips
Posted on Dec 13, 2013 10:00 AM by Naomi de la Torre
The holidays are here... complete with a sleigh load of tempting treats that can derail your diet faster than a speeding fruitcake. Need some expert tips on how to avoid holiday weight gain? Read on.
---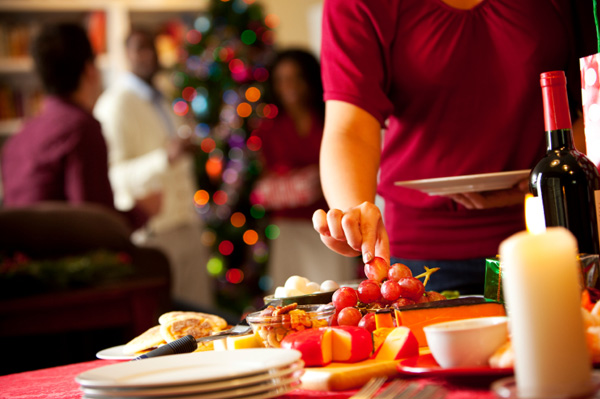 Wear your skinny jeans
Want to keep the holiday hungries at bay? Bust out those skinny jeans. We know it took months (and months!) of hard work to reach your fitness goals, so don't be afraid to strut your stuff. The more proud you are of what you've achieved, the less likely you'll be to throw it all away for a pound of cheesecake.
Never party hungry
You know the rule about never shopping hungry? Well, that same rule applies to holiday parties. If you go in famished, you're much more likely to pile up your plate to the ceiling with all sorts of diet no-no's. With a hungry belly in the driver's seat, it will be a cinch to justify that third helping of eggnog, a pile of Christmas cookies and a side of pecan pie. Instead of starving yourself all day in anticipation of a holiday shindig, eat normally, and you'll maintain the willpower to stick to your plan.
Just say no
It isn't easy to say no to eager hosts who are dying for you to try all the delicacies they've prepared — but maintaining a healthy diet is all about willpower. If you are serious about not overdoing it, don't be afraid to tell your hosts that you are watching your weight. If they are true friends, they'll support you.
Cheat…just a little
Sticking to your diet doesn't mean missing out on all the holiday fun. It's okay to cheat now and then, as long as it's just a little. For example, instead of getting a whole piece of pound cake, share it with a friend! Chances are, you've got a friend who is watching their diet too and they'll be more than happy to go halfsies.
Bump up your fitness
If you know that you like to splurge a little now and then during the holidays, the best way to compensate is by bumping up your fitness. If you already work out three times a week, add an extra day or two. Don't have time to run to the gym? Try some online fitness videos or even a Zumba workout on your Wii.
More on diet and fitness
Diet food that's actually delish!
6 Fitness tips for the New Year
5 Spicy new fitness trends