Posted on Dec 19, 2013 8:30 AM by Sarah Kovac
Having the kids home from school for the holidays is a blast! If you're looking for projects to help them stay occupied while you wrap presents, we've got some time-consuming and fun crafts for them.
---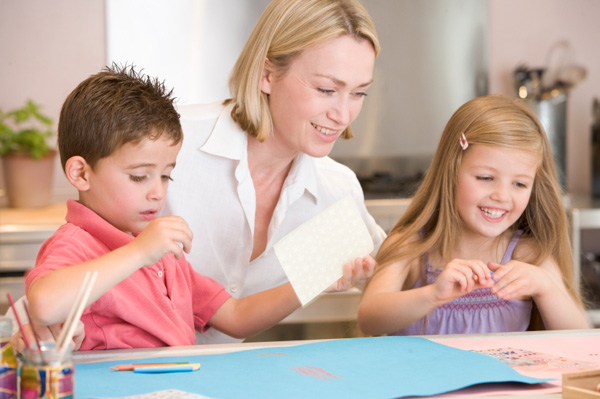 Christmas break is the high point of the school year for many children, but if you find your kiddos walking in circles or picking on their siblings all day, they may need a little help finding ways to occupy their minds. We've got some projects they will love and that will help pass the hours stuck inside.
Chain them up
With a glue stick, some child-safe scissors, and construction paper, your kid can spend hours making your house look festive. Paper chains are easy enough for preschoolers and look so fun around the tree or even draped all through the house. Challenge your kid to see how long a chain she can make, appearing with a tape measure every now and then to track the progress. If you want to skip the scissors and glue, use a plastic needle and yard to create a popcorn chain instead.
Flake out
Paper snowflakes are another classic craft that will make your house more festive! Older kids can spend a day creating snow flakes to put on the tree or paste onto gift packages. Here is an awesome tutorial from Martha Stewart in case your snowflake-making skills are a little rusty.
It's a wrap
If your kid loves to color or paint, they can help you with a very important part of gift-giving this year: wrapping paper! Get a roll of butcher paper (you can get 200 feet for $25 here), and unroll bits at a time for your kid to decorate and color. Use this as your wrapping paper when you're wrapping those last minute purchases. Be sure not to over-tape, as Grandma will probably try to save such special paper!
Get lost
If your kid likes mazes, they are a easy and cheap way to keep him busy and stimulate his brain. You don't even have to buy a workbook, as there are many free, printable maze packets online. Krazydad is one of our favorite printable maze websites, which boasts hundreds of mazes for preschoolers to older kids ready for "super tough mazes."
Whatever you do, make sure to take some time to do nothing but enjoy these moments with your family. When it's all said and done, you won't wish you'd cleaned the house better, you'll wish you'd spend more time enjoying the small moments. Your grown-up project: schedule time for doing nothing!
More on gifting
Glamorous gifts for her under $20
10 Totally awesome gifts for boys
How to package Christmas cookies as gifts