Fun Ideas For Your
Holiday Ornament Swap
Posted on Dec 19, 2013 8:30 AM by Naomi de la Torre
Love to see your Christmas tree decked out from head to toe? A Christmas ornament exchange party is a fun way to give and receive during the holiday season. Get ideas for invites, snacks, games, party themes, crafts and more.
---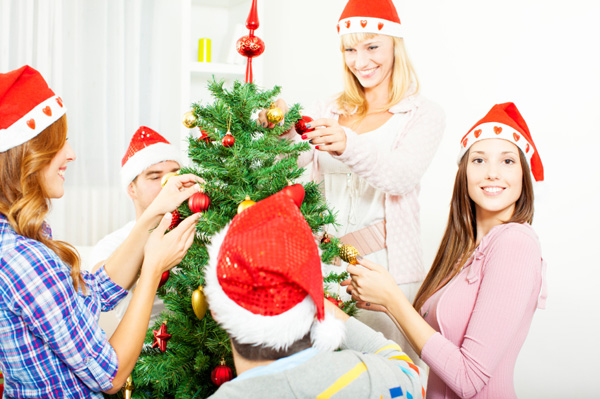 Paper invitations
In this fast-paced world of text messages and evites, there's nothing like a real, paper invitation to set the mood for your holiday fiesta. If you are feeling really crafty, design your own invites with scrapbook supplies from your favorite hobby store. If you want something beautiful, but easy and convenient, try the amazing selection of ornament exchange invites at Zazzle.
Hang it up
There are lots of fun ways to exchange ornaments, but our favorite is to have a small tree where guests can hang the ornaments they brought on the way in. Everyone gets to enjoy looking at them throughout the party and can pick whichever one they want on their way out.
Game ideas
Another cool exchange idea is to make it a game. You can keep it simple and play a version of the White Elephant where guests will have big fun stealing their favorites until the ornament opening is finished. You could also try Right Family Christmas Story (check out the link here). Everyone sits in a circle holding their ornaments. As the story is read aloud, the guests have to pass their ornaments to the right or left each time "right" or "left" is spoken. It's a hilarious game, and kids and adults alike enjoy all the chaos and anticipation until the very end.
Edible ornaments
Ever seen an ornament that looked good enough to eat? Bring on the Christmas cheer at at your ornament exchange with edible ornament cookies. Make, bake, decorate and tie with a ribbon! Your guests will enjoy the old-fashioned holiday flair.
Party themes
If you host an ornament exchange party each year, it can be fun to add a theme to your swap. Handmade ornaments are always a hit and you can get even more specific by requesting that guests bring ornaments made from felt, wood, metal or clear glass bulbs. Got a group of sci-fi geeks on your hands? How about having a Doctor Who or Star Trek themed ornament party? You can also stage a Pinterest party where everyone has to make an ornament they found on Pinterest. The possibilities are endless.
Get crafty
No ornament exchange is complete without a crafting table where guests can try designing a handmade ornament. Stick with simple crafts that aren't too messy or require Martha Stewart crafting skills. Need some food for thought? Check out these handmade ornament tutorials on Pinterest.
More holiday party ideas
7 Christmas party themes you'll love
Host an ugly Christmas sweater party
5 Ways to wow holiday party guests