Posted on Dec 20, 2013 8:00 AM by Naomi de la Torre
Ho ho ho! Sprinkle on a little Christmas magic with this to-die-for recipe for Rudolf the Red-Nosed Reindeer cupcakes.
---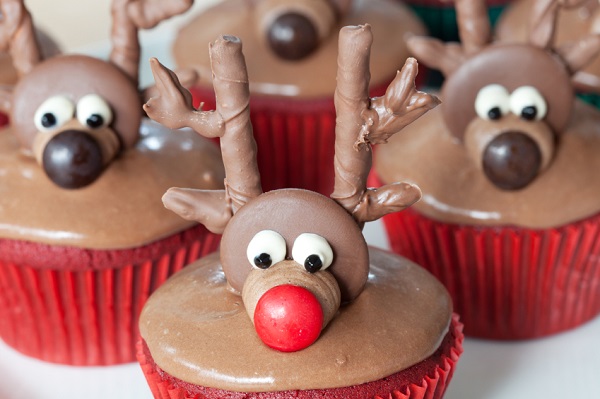 Looking for a standout dessert for your Christmas dinner? These reindeer cupcakes are almost too cute to eat, but they are actually quite simple to make. Just make sure to gather your supplies ahead of time, as you may have to order the fondant and candy eyeballs online (or purchase them from your local craft store).
Ingredients
1 box red velvet cake mix
1 canister chocolate frosting
1 batch chocolate fondant or modeling chocolate
Cornstarch for rolling
Chocolate almond bark
Large pretzel twists
Red and brown M&M's
Supplies
Circle cookie cutter same size as the cupcake
Rolling pin
Wax paper
Directions
Preheat your oven to 350 degrees and prepare your red velvet cake mix according to the directions on the box.
When the cupcakes are finished baking, allow them to cool before covering each with a thin layer of chocolate frosting.
Next up, the fondant! Sprinkle a little cornstarch on your clean work surface and place the fondant in the middle. Use your rolling pin to roll a portion of fondant into a thin layer about 1/8 of an inch.
Use your cookie cutter to cut 24 chocolate fondant circles. Take each cupcake and lay the circle on top of the frosting, gently pushing the fondant over the top to make a smooth dome.
Take another piece of fondant and roll it with your hand into a long snake the size of a quarter. Use a butter knife to cut thin slices for the reindeer faces.
Use the last of the fondant to roll another long snake about half the width of the previous one. Cut pieces the size of tootsie rolls and mold them into the shape of reindeer noses.
Now for the antlers. Break your pretzels in half to look like antlers. Heat your chocolate almond bark according to the directions on the package and dip the pretzels pieces to coat. Allow them to harden on wax paper.
Use the candies, fondant and pretzel antlers to assemble the reindeer faces on top of the cupcakes. Rum pum pum! Your reindeers are complete!
More holiday fun