Posted on Jan 01, 2014 8:00 AM by Naomi de la Torre
Ready to nosh? Get a load of these amazing and healthy raw snacks! No matter how picky you are, you won't be able to pass up these tasty, guilt-free treats including crackers, brownies, brittles, fruit and veggie crisps and more.
---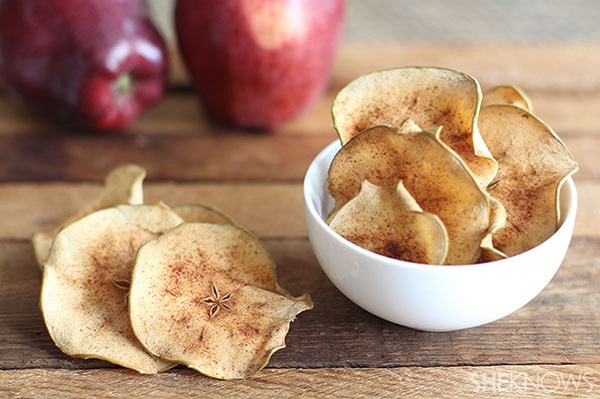 Whether you are trying to detoxify, lose weight or just eat healthier, raw snacks are all the rage. When you eat food in its natural, unprocessed state, your body gets a quick burst of healthy energy without anything to weigh you down.
Cheezy Kale Krisps
Satisfy your next snack attack with a pile of healthy Cheezy Kale Earth Chips by Blue Mountain Organics. These crackers are so good, it's hard to believe they are good for you too! Not into cheese? Try some of these other faves like creamy garlic, tomato basil, chocolate or maple coconut. Nom nom.
Brad's Raw Chips: Sweet Potato
You can make your own sweet potato chips simply by slicing them thin with a mandolin and placing in the dehydrator overnight at 115 degrees. But if you want something you can just grab and go, you have to try Brad's Raw Chips. Hands down, these are the best you'll find on the market. Made with carrots, sweet potato, flax seeds, raw buckwheat groats, maple syrup, extra virgin olive oil, salt, vanilla extract, Jamaican allspice, nutmeg, and Himalayan sea salt, kids and adults alike go crazy for these tasty raw chips.
Coconut Brownie
Ditch the processed sugars and grains and you might think it impossible to make treats like cookies and brownies — but not at Urban Remedy, where they turn healthy foods into mouthwatering brownies and brittles. Our favorite is the Coconut Brownie, which is so chewy and rich thanks to nothing but wholesome (and gluten-free!) ingredients like organic almond flour, organic cacao and organic coconut.
Lemon Brittle
Want to indulge your cravings without a side of guilt? Try any of Urban Remedy's Raw Brittle flavors — ginger, lemon, cacao or banana. These brittles will tantalize your tastebuds at just 160 calories a pop. Not to mention, they have the ideal balance of fiber, carbs and protein to keep your body burning fuel at top capacity.
Brad's Raw Onion Rings
Unbelievably crunchy and ridiculously good, Brad's Raw Onion Rings are an amazing find in the raw foodie world. They come in four outrageous flavors that are all awesome, but our favorite is Rings of Fire. If you love spicy, get ready to sizzle for this fiery hot snack that can only be described as legendary.
Raw Fruit Chips
You can make your own raw fruit chips as easy as pie. Just slice up your favorite fruits like apples, pears, mango or strawberries and spread them out evenly in your food dehydrator. Let them go for 10 hours or overnight at 115 degrees until crisp. Feeling lazy? Check the bulk food bins at Whole Foods for a tasty selection of all your raw fruit faves.
More on healthy snacks
Delicious healthy and crunchy snacks
Healthy snacks for your sweet tooth
Smart snacking! 100 calorie snacks